Play the Par
Boys golf won 187-223 against West High School.
The boys golf team shined last Thursday against West, winning 187-223 at Alondra Park, their home course, with a par 36. This score marked the team's second lowest round at Alondra in school history. Sophomore Jaxson Blum led the way with his personal best of 35, followed by seniors Cathal McKeown and Eli Hughes, each with 37. 
"I feel like I played pretty well today. We're still coming out of spring break, but we're finding our stride. I was proud of some of the shots I hit today," Hughes said.
During the match, the newly aerated greens for each hole challenged the boys' ability to read the greens and putt accurately. Many courses aerate their greens by distributing sand to improve the growth of the grass, which can impact ball speed and direction when putting. 
Despite the messier greens, McKeown managed to sink many putts in the clutch, helping him bring his score down to 37 with Hughes. 
"I wasn't hitting the ball too great, but God just struck down and said, 'You know what? I'm gonna give you some putting today', and the balls were sinking," McKeown said.  
The Bay League matches are just around the corner with qualifiers on May 1 at Lakewood and finals on May 4 at Skylinks, with Mira Costa being Redondo's biggest threat. 
"It's going to be close because they have the home course, but I expect we should win. We're one and zero with them this year, but it was close, so that's the only thing standing our way," McKeown said.
With the regular season wrapping up in just a couple weeks, the boys are looking to make a run in team CIF this year. Six people score in the CIF team competition, and having numerous players with similar and low scores helps Redondo gain the advantage over other teams.
"A lot of teams only have a couple guys that are really good. We have an insane number of guys who on any day can shoot even par, so depth is definitely the number one thing that separates us," McKeown said. "It's basically a battle every week for who scores the best, and it's always changing."
With the most dominant player on the team fluctuating each match, McKeown believes that many players on the team could make a run in the individual CIF competition. 
"To be honest, anyone can make it far, it can really depend on the week because [our team] can be streaky," McKeown said. "They're all good players. I would expect Jack [Eisland] the most, but besides him I believe it actually can be anyone."
Leave a Comment
About the Contributor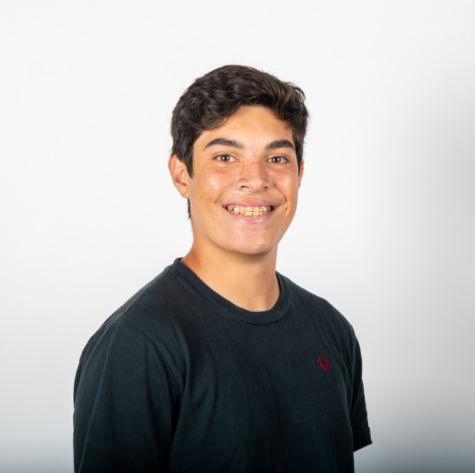 Ty Soria, Sports Editor
So excited to be in my 4th year in High Tide and second year sports editor. I play football and throw shot put and discus for the school and play lots of other sports as well. Come to the sports debate...