Striking a Pose
Sophomore Haley Poore models for Manhattan Model Studio and hopes to pursue a career in the field.
Lights, camera, catwalk! Walking the runway and posing for photoshoots, sophomore Haley Poore conquers the modeling world. She has been modeling for around two years and is a part of the Manhattan Model Studio in Manhattan Beach.  
Poore got started in the industry because she wanted a break from playing soccer, which she had been playing until her freshman year of high school. Turning her fifth grade dream into a reality, Poore's family and friends all encouraged her to try modeling, a passion inspired by some of her favorite celebrities—Bella Hadid, Kendall Jenner and Heidi Klum.
"[Modeling is] important to me because it's a good thing to [help] build confidence and anyone could do it," Poore said. "It's a fun [hobby] and there are a lot of good things you [can learn] from working with other people." 
According to Poore, time management and communication skills acquired from modeling are also important in everyday life and in future careers since modeling helps you try new things and feel more "comfortable" in public. 
Long days from around six to 12 hours and waiting are all part of the hobby, but it doesn't deter Poore away from pursuing it. So far, Poore has done seven runway shows through her modeling studio, and has walked the catwalk at the Oscar screening, Movement LA—a runway show which she and her peers had to model for multiple designers and people from America's Next Top Model—and more. Starting her first runway show last summer, Poore recalls her favorite memory from the performance was "high-fiving everyone after the show and taking red carpet pictures."   
"It is stressful at times because you're waiting [for a long time] and then you rush and [perform on the catwalk]," Poore said. "But, it's totally worth it in the end. It's really fun getting your makeup done and trying out new clothes. Also, while you're waiting, it's fun to meet with all the other models and talk to them."
Through modeling, Poore has met many new people who have encouraged her and helped her keep going in the industry. Multiple teachers have helped Poore perfect her walk and Heidi Klum, who she met and talked with briefly at the Nickelodeon Choice Awards, encouraged her by telling Poore to never give up on the industry and to keep working hard. Her modeling coach, Diana Gallo, the founder of Manhattan Model Studio, also encouraged and helped her. Gallo has been coaching Poore for a little over a year and before that Poore was self taught from watching YouTube videos.
"If you've ever been interested in modeling or anything in general, I say go for it. In middle school, I was always afraid to do [modeling] because I always thought about how other people would think of me, but now I don't care what other people think. I want to do what I enjoy doing and I've gained a lot from it," Poore said. 
Gallo notes Poore's passion for modeling and believes it's obvious that she has a "hunger" to learn all about the fashion industry.
"Anything I teach [such as how to show emotion in modeling and how to walk on a catwalk], she listens and she puts it into practice," Gallo said. "She immerses herself in it. I think [this] has put her on the accelerated path to becoming a professional model," Gallo said.  
Poore, who hopes to do modeling as a career someday, puts herself out there and has even started taking acting classes through Gallo's husband, who teaches acting to help build her modeling skills even further. 
"Her strength is that she might be nervous and scared to do something new, but she does it anyway. She is very courageous," Gallo said. 
Though Poore started with no experience when first beginning lessons with Gallo, she didn't let that stop her from immersing herself in opportunities (such as charity events and non-paying events) offered to her through her modeling company. According to Gallo, Poore is very dedicated to her craft and is able to train other younger models and teach them how to walk on the catwalk. 
"[Haley] is not one of those people that is gonna sit by and wait for someone to discover her. She knows that it takes work to become successful in modeling because there's a lot of competition. She's always trying to improve herself," Gallo said. 
Gallo believes Poore will keep improving as she continues to work on her modeling skills and inspires other people to pursue similar paths. 
"She's very young, but she is already learning so much through modeling. The sky's the limit [for her] and she's gonna go very far, and I know we're gonna see her on the cover of magazines and other shows," Gallo said. 
Leave a Comment
About the Contributor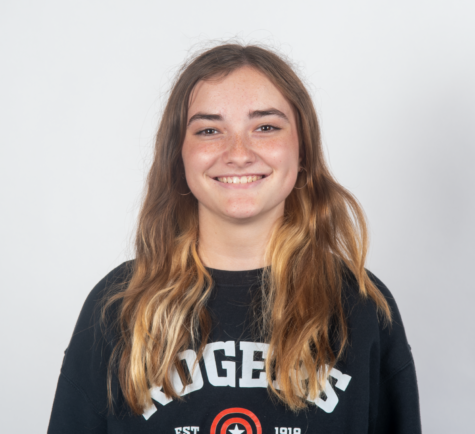 Scarlett Kindt, Staff Writer
I am very excited to be on staff for my first time this year! I enjoy watching Marvel and Stars Wars. Also, I love to do digital drawing and am a very creative person!