Senior Issue Editor Feature: Troy Nevil
After years of commitment to music, senior Troy Nevil plans to study pre-law and political science at the University of Southern California.
With every step on the field, every note played and every shimmering instrument, Troy Nevil conducts a harmony of sight and sound into one big show. RUHS Marching Band drum major was only one title on Nevil's list of positions including director of the pit orchestra for RUHS musicals and an online editor for High Tide. After taking rigorous classes and his consistent devotion to communities on campus, Nevil relaxes after a stressful four years and looks forward to his future at the University of Southern California (USC.)
"I am so glad I am at the end, though I am sentimental too, the last four years have been crazy. It's nice to relax because everything is so much less overwhelming," Nevil said.
This school year, Nevil conducted the orchestra for both "Mamma Mia!" and "Les Misérables."  He says he is drawn to music because of the opportunity to "express himself," as well as its change in pace from the monotony of school.  Nevil's highlight of the school year was dedicating nearly twelve hours to practicing the music for shows and guiding underclassmen through the world of orchestra.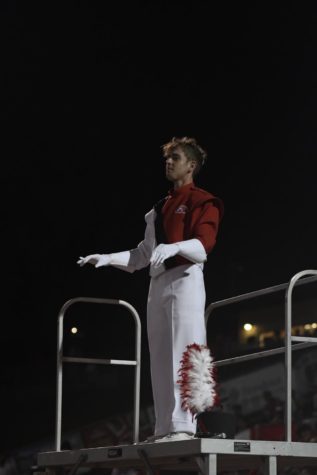 "Everything that I've worked on for hours molds into this one event and is rewarding because it's different from academic stress. With academic stress, there is more pressure to excel and it's not as rewarding. But with pit orchestra or marching band, I put in the time that I want to put in," he said.
Nevil has been playing instruments since fifth grade and when he entered high school, he debated doing a sport or joining a marching band. Nevil says he does not regret his decision. 
"[Band] felt more fitting to who I was. Band is such a tight-knit community, I know that sports are too […], but for me, band felt like the right place where the people had similar interests as me." 
Senior Laxmi Upadhyaya is one of those people and has known Nevil since fifth grade. 
"We became close in middle school because we were in the same band. I've seen him through all his phases. His love for band has been constant. I've seen his extreme band kid moment, his successes and of course his disappointments," Upadhyaya said. 
Upadhyaya remembers Nevil's biggest triumph when he became drum major.
"Seeing Nevil stand being drum major was incredible. Our friends and I were at a football game and our entire flock started screaming because it was such a good moment for him. It was super awesome seeing how hard he's worked and it's all paying off," she said. 
Nevil attributes his success to working for himself and choosing to do activities he loved as opposed to doing things to check boxes for college applications or a resume. Though Nevil has felt the pressure to succeed, he combats that by reminding himself of the triviality of doing things for college or status. Next year, he will be attending USC for political science with hopes to pursue law. 
"People can get caught up in wanting to excel and go[ing] to an Ivy League or a Top 20 school. And that's exactly how I was; now that I've made it to the end [of high school] I realized I'm so much happier because of the times that I made decisions for myself," he said.  "This past summer I did drum corps, and realistically, if I'm thinking in the sense of college, it probably wasn't the strongest for an emphasis on law. But now looking back, that doesn't matter."
According to Upadhyaya, she is incredibly proud of Nevil and his USC decision.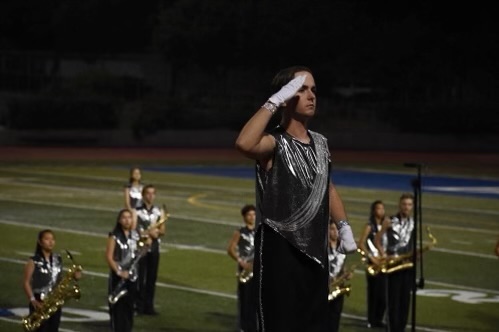 "I feel like I just saw him visiting USC in seventh grade and now he is going there. I am so proud to call him my friend. Everyone knows how friendly he is, how kind he is and how he genuinely cares about people," she said.  
Reflecting on the last few years, Nevil can see now with clarity that what he figured was important before, isn't so significant. 
"It's easy to get caught up in the stress and pressure of either peers or parents to academically succeed or be socially successful, but at the end of the day, twenty or thirty years from now you're not going to be thinking about how popular you were or if you got straight A's or not," he said. "[High school] is mostly just about developing good habits. In truth, that will prepare you for college and eventually careers and life. It is just having fun and making meaningful friendships, immersing yourself in extracurriculars and enjoying life, not just using it as a vessel for some certificate." 
Winding down, Nevil enjoys his lack of anxiety but wishes he didn't take any moment for granted. He warns of how fast the four years go by. 
"When you're younger, you're always trying to move to the next thing. Get one thing over with to get to the next thing, almost so you can survive on offense. But then as you get to this point of senior year, we realize that while we're trying to get everything over with, we didn't get to enjoy it fully in the first place. I want to make sure I enjoy everything in college," Nevil said. 
Leave a Comment
About the Contributor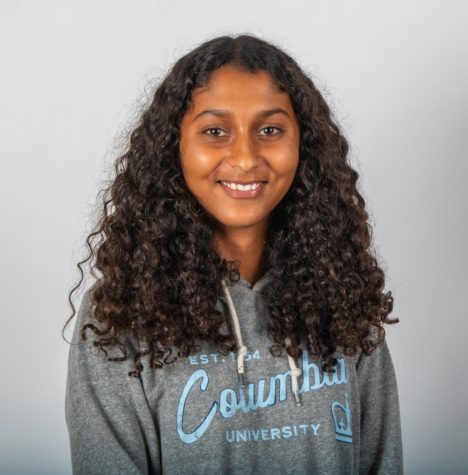 Priya Ramcharan, Staff Writer
Hey! I'm Priya, a freshmen and staff writer. I spend my free time reading dystopian novels, watching political thrillers, and collecting New Yorker magazine covers. I play water polo and swim, though...