Ready, Set, SEW!
Junior Sophie Pichay designs and sews clothes through a fashion design program at SCROC.
Clothes are more than just pieces of fabric sewed together; each stitch and pattern reflects the devotion of the designer behind it. Junior Sophie Pichay has honed her own sewing capabilities through a fashion design course at the Southern California Regional Occupational Center (SCROC), and dedicates about 3 hours every Monday through Thursday to advancing her skills. 
Although she began sewing on her own during the pandemic, the program and class structure have allowed Pichay to further develop her knowledge of the fundamentals of fashion, from textile sewing to pattern weaving.
"[Making the clothes] was really confusing at first, but after taking the class, I understand [the process] better," Pichay said.
 Pichay appreciates that the course assigned a variety of projects that required students to create clothing from scratch with minimal instruction.
"I like that [the instructors] told us to make whatever we want. I don't like having a bunch of rules because then you may do something wrong," Pichay said.
When brainstorming a design, Pichay often finds inspiration from Pinterest and creates mood boards to put together her ideas. Transforming those ideas into reality, however, requires a great amount of effort prior to putting the needle to the fabric. According to Pichay, SCROC helped her recognize the "importance of the steps before" sewing, including choosing the right fabrics and noting where each seam and detail will go.
"I used to trace the patterns and hope for the best," Pichay said. "I never really made prototypes or mood boards or fashion sketches. I just went for it, and often I would be disappointed with how it turned out."
Learning to effectively prepare her work prior to sewing allowed Pichay to better understand how to compose her desired pieces. 
"Before, I would see a jacket and I'd already not want to make it because it had a zipper or a hood and it would [seem like] too much," Pichay said. "But now [seeing it] on a flat piece of paper makes it seem so much easier and makes me think that I can actually do it." 
Now in her second semester of the class, Pichay is able to apply the basic principles to participate in an upcoming fashion show. Students at SCROC must prepare a collection of five pieces to be modeled on the red carpet at the end of this year, with professional photographers and an audience full of SCROC members. 
Pichay is expecting a large time commitment, about eight weeks, to get the pieces runway-ready. Her plan is to create a collection of fancy items: three dresses, a velvet set of flare pants, a top and gloves and a blazer, all within the color scheme of reds, whites and blacks. She is "excited" to see her friends model her pieces on the runway.
"I'll be most proud of myself to see the clothes I made custom for [the model's] body type. Before, I was the only one who wore [my handmade clothes], but seeing them on other people is [rewarding]." Pichay said.
The customizable aspect of self-fabrication originally drew Pichay to the art of fashion, and continues to influence the design of her pieces, making her feel more "comfortable" in the clothing she creates.
"Sometimes when you buy something at the store, it'll be tight around your legs but too loose on your waist. At least for me, I would wear a long sleeve shirt to cover that up," Pichay said. "But if [the clothing] is made for your body measurements, you can feel a lot more comfortable wearing different things and be able to show it off more."
Junior Case Fulton, a childhood friend and AP Art classmate of Pichay, noticed Pichay's sewing capabilities broaden as her SCROC experience continued throughout the first half of the school year. 
"She started using materials that aren't just fabric," Fulton said. "She'll use paper or ribbons or different types of fabric, not just cotton."
Using new tactics to create pieces further accentuated Pichay's individual expression through her pieces, according to Fulton.
"Everybody has their own personality in their art. She's very good at replicating styles, like old fashion styles of a different era, and making them her own," Fulton said. "Sophie's personality is sweet, but you see a different side of her in her art. It's a little edgier than she might come off when you first meet her."
Pichay is unsure if she wants to pursue a career in fashion design in her future; however, she is interested in the science behind textiles and the laboratory work behind the fashion industry.
"A lot of people don't think about how [the science behind textiles] works, but there's so much behind buying fabric from a store," Pichay said. "One time, we burned fabric to see how it would smell. That smell would tell you if it had natural fibers or fake fibers, which I didn't even know existed."
With a STEM pathway in mind, Pichay still hopes to keep fashion as a "side hustle," continuing to grow as a designer for personal enjoyment. Her time at SCROC has expanded her understanding of the art itself and makes her feel more confident in her capabilities to create clothes. 
"You [often] go to a store looking for something that you have in mind but you can't find it or it's too expensive. It's always cheaper to make it yourself and it's very customizable," Pichay said. "It's fun to see your imagination on paper or in a design." 
Leave a Comment
About the Contributor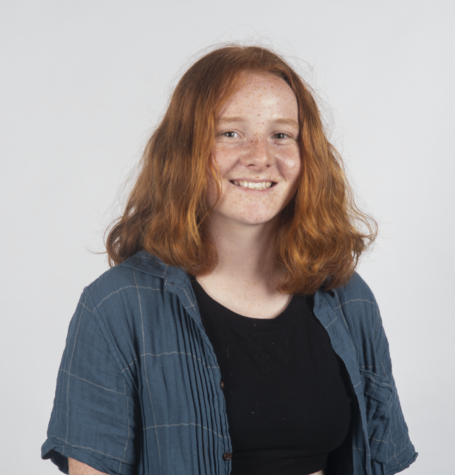 Cristina Couch, Copy Editor, Online Editor
I am a sophomore at RUHS and this is my second year on High Tide. When outside of the program, I love to draw, play soccer, and listen to music.