Fashionable Fight
Freshman Ava Danylysyn wore a dress every day of December as part of a movement to raise awareness for victims of human trafficking.
Even on 45° December mornings, facing winter rain and bitter winds, freshman Ava Danylysyn will not be seen wearing pants this month. Danylysyn's unwrinkled black dress falls just above her knees, and she layers a turtleneck underneath and a cream-woven cardigan over her outfit to combat December's unwelcoming weather.
Danylysyn joins the movement, Dressember, an advocacy and fundraising program that fights against human trafficking. She tackles the challenge to wear a dress every day during December, in an effort to raise awareness of the cause. 
"It's an interesting way to do a style challenge while also supporting a cause," said Danylysn, "But I think that's another part that's kind of crucial to the cause, that you're doing something difficult and facing an environment in which [wearing a dress] is difficult to do." 
The challenge is supposed to help bring awareness to human trafficking, as thousands of participants join together to fight the cold in a dress or a tie, in an effort to prompt others to donate to the cause. 
"There are other people who are doing more than me, certainly, but I decided that if it was something I can do, then I might as well do it," Danylysn said. 
A family friend introduced Danylysyn and her family to Dressember. However, Danylysn took her participation one step further and is in the process of creating a page for their website, dressember.org. 
"I don't see a lot [advocacy about human trafficking] in the school environment or a lot of activism towards trying to stop it," said Danylysn. 
Blythe Hill started the Dressember campaign in 2009, and the program has been established as a non-profit since 2013, raising $16 million since. Donating is an important step in Dressember's ability to attack the issue directly, as they use the money for advocates, intervention programs, empowerment programs and more. Although Danylysn's family donates to the program, she searched for more ways to raise awareness. 
"This year I've tried convincing people to donate, it's the most important, but I've also posted on my Instagram page and contacted relatives, and they've posted them on their social media pages," said Danylysn.  
Dressember advocate, Melissa Hodge, is from San Juan Capistrano. Hodge has taken part in The Dressember Documentary on YouTube, which dissects the program itself, its goals, and how the program began. Hodge says that her activism in Dressember was motivated by being a mother of three. 
"I feel like we all have a part and we all can do impactful things right where we're at. No matter the age, no matter if you're in middle school or high school. It's never an ' I'm just a high schooler' or 'I'm just a mom.' It's that we all have impacts as human beings to do what we can where we're at even if it means just having a conversation or asking the questions 'what is human trafficking?'" Hodge said. 
Hodge believes that fashion is an easy way for high schoolers to get involved. Two of her children, now in college, began clubs in their high school and current colleges, prompting others around them to get involved in Dressember. 
"I think that the hardest part is getting over yourself. It's getting over your fear of people and what people think, and really focusing on why you're doing it. You have to focus on the why," Hodge said.
She believes that given the privileges she was born with, she needs to use them to be a voice for others. 
"Given the freedoms that I have and the privileges that I have, how can I not use it?" 
Leave a Comment
About the Writer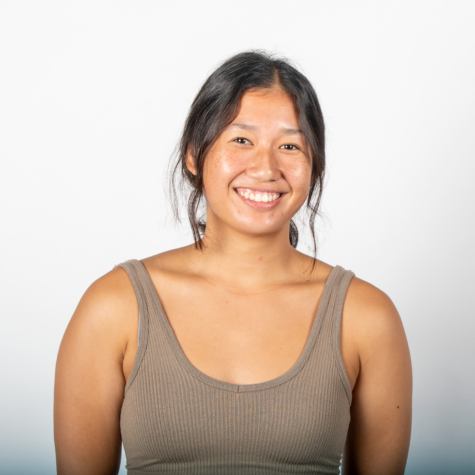 Malina Young, Staff Writer
Hi! I'm Malina! This is my first year in journalism. I'm currently in ASB and I play volleyball. My favorite season is fall because of the weather and my favorite day of the week are Tuesdays and Saturdays....