"The Invitation" Movie Review
"The Invitation" keep the screams coming for viewers looking for an eerie, nail-biting thriller.
Taking the opportunity to watch a $3 movie on National Movie Day, I decided to head down to the Rolling Hills AMC to see "The Invitation," a horror/mystery and thriller film, according to the website Rotten Tomatoes.
This movie, a modern take on "Dracula," follows main character Evie (Nathalie Emmanuel), a girl who recently lost her mother and discovers she has a long-lost (overly eager) cousin, Oliver. Without any other known family, she takes her cousin up on his abrupt invitation to attend a family wedding at a mansion in the English countryside, where she meets Walter "Walt" DeVille (Thomas Doherty), the charming aristocratic host.
Evie eventually finds out that Walt isn't who she thinks he is, and that her family's past is filled with unnerving secrets. I don't want to spoil this movie too much (it really is worth a watch), but at the end it comes down to an ultimate fight between good and evil.
What really brought me chills throughout the entire movie was the setting of Walt's mansion—dark, dim and lavish. The people that were present in it, such as the maids and the butler, seemed to have something off about them.
This eerie tension created by the atmosphere continued throughout various jumpscares, where several of the mansion's maids were taken and killed by an unseen and mysterious creature. These jumpscares surprised me more than frightened me, but they managed to keep me on the edge of my seat, waiting to see what would happen next. 
There were so many times in the movie where my eyes got WIDE, such as when Viktoria, one of the women part of the wedding party, sucks blood out of Evie's finger. This creeped me out and hinted at the truth of her identity (which I won't spoil—watch the movie!).
My shock continued throughout the film when one of the family members slit a maid's throat and poured her blood into a bowl at a dinner. This was a dinner at which Walt announced the marriage between Evie and himself (Walt had tricked Evie earlier into marrying him to ensure his and the other family members' longevity and immortality as their certain undisclosed identity). I gasped in disbelief as this part played out. 
Overall, though the movie did not include the typical scary features one might expect from a film of this genre and some parts were unnecessarily long or too short, it still was something I'm glad I watched. It had many suspenseful twists and turns, and I was there for all of it, and now I'll always remember to think twice before accepting an invitation from anyone—no matter how tempting it sounds.
Leave a Comment
About the Contributor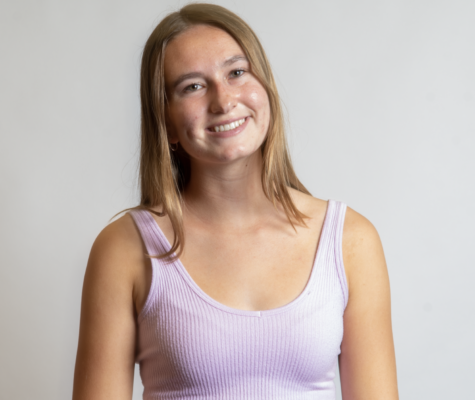 Erika Glass, News Editor
Second year news editor and avid milk drinker.