"Do Revenge"? Do Watch
Private school upperclassmen + a skewed sense of "justice" + two best friends = a dark comedy for the best of Gen Z. This is "Do Revenge," Netflix's latest coming-of-age movie that, while not perfect, is exactly the kind of movie I want to watch at a summer sleepover. 
Welcome to Rosehill Country Day. The uniforms are beautiful and the students are even more so, down to their perfect pastel sweaters and ultrawhite smiles. Queen bee of the rising senior class is Drea Torres (Camila Mendes), scholarship kid and darling of "Teen Vogue." She's spent the past 17 years meticulously crafting her reputation in order to earn a spot at Yale, and it seems like everything's coming up roses—that is until her sex tape gets leaked, and the whole world comes crashing down. 
In the wake of her fall from grace, Drea spends the summer staffing a tennis camp in Palm Beach, where she makes an unlikely friend in Eleanor (Maya Hawke). But the halls of Rosehill are inevitable, and when Eleanor and Drea both have to face nemeses from the past, they form a secret agreement to take out each other's enemies. There are drug scandals. Incriminating text messages. Parties that cost more than my future college tuition. As privileged Ivy-hopefuls burn bridges and ruin each others' lives, the audience is allowed into their minds: cunning, narcissistic, and oh so entertaining. 
Stylistically, this film is everything I could want. Like other aspects of the movie, I have to accept the suspension of belief that comes with fictional teenagers having piles of money, which manifests itself in beautiful production design and costuming. Drea and Eleanor's outfits are straight out of Gen Z Pinterest boards labeled "summer inspo"—bright colors and textures that I want to steal next spring. 
But even the loveliest aesthetics don't mask a poorly-written script, and thankfully "Do Revenge" delivers on the most important requirement of my checklist. You can tell that the writer's room understood their audience. As Eleanor would say, we are "disciples of the 90s teenage movie," and "Do Revenge" delivers all of my favorite high school tropes with the cynical humor that defines our generation. There is a level of satire in Rosehill's entitlement (at least they're aware of the fact that they populate the 1%), but it's written in a way that doesn't make me cringe like "He's All That" and "Never Have I Ever." 
My favorite part of this movie, though, are its characters. From the jump, we dub Eleanor and Drea as the "opposites attract" best friends—a fierce two-woman team. By the end, though, my views of both girls are completely changed. It's a testament to the well-layered plot and performances by Hawke and Mendes. Our two thumbnail characters are supported by a cast of deliciously vicious Rosehill students, from performative student body president and ex-boyfriend Max to ex-best friend Tara. Each character has layers. Their motivations don't always make sense and they contradict themselves half of the time, but they're teenagers. Isn't that what we all do? 
Throughout the movie, each character confronts battles of the modern high schooler: Drea grapples with sexual assault and the pressure of college applications, Eleanor copes with the impact of long-standing trauma, Max questions his status as Rosehill's golden boy. Mind you, none of them respond in healthy ways. My issue with this part of the movie is that while important themes are present, they aren't really explored. Do the writers get points for acknowledging teen struggles? Yes. But I wish they took time to make a real statement; they had almost two hours of run time to do so.
"Do Revenge" leaves me with a lot of thoughts. The plot is complex (a medley of 90s teen classics and quintessential thriller films),fun, and beautifully developed. Part of me wishes I could enroll at Rosehill and part of me knows I would never survive, and yet I take great joy in watching Drea and Eleanor navigate the snake pit themselves. There are thematic issues, and parts of the storyline border on fantastical, but it's well-done and enjoyable to watch. Next time you think about rewatching "Mean Girls," give "Do Revenge" a try instead—just don't try any of it at home. 
Leave a Comment
About the Contributor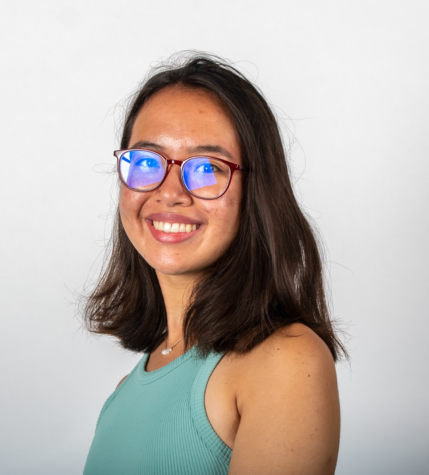 Lucy Davis, Online Editor
Junior. Lawyer, delegate, player of golf, writer. Will check in with you every Tuesday. I like to think that my stories are as good as my grilled cheese sandwiches, and I've heard positive things about...