Thistle while you work
Junior Cielo Szeles embraces her creative nature and love for art at her job at J Flowers
The ringing of a phone fades into a cacophony of rushed conversations, the rustling of leaves and a loud beeping noise signaling a new DoorDash order. A pair of frantic hands grab a bundle of white flowers, handling them with just enough care to avoid ruining them. A petal drifts to the floor and is stepped on by a customer ordering a vase of orchids. The phone's insistent ringing gets lost in this web of commotion but continues to demand attention. Junior Cielo Szeles finally answers the call with a bouquet of roses in one hand and a pen and notepad in the other, working hard for the Mother's Day hustle at J Flowers.
"I liked the rush of it," Szeles said. "There were so many people coming in and going out, and then you're getting to help everyone. You were never just sitting around because there's always something to do."
Szeles has been working at the family-owned flower shop in Redondo Beach for less than a year, but has already grown a strong passion for flower arranging. Along with putting together beautiful arrangements, she also helps out with other aspects of the business, like customer service, cleaning and shop management.
"I like it because you're always talking to people and getting to know the customers," Szeles said. "That's my favorite part about working at a small business, you get regulars and they become people you know really well." 
Szeles became a raging "plant mom" at the start of quarantine when her interest in plants started. Her collection began with one small bamboo plant, incrementally growing with her passion for nature. As time went on, Szeles became more interested in learning about plants and now gets to express this at her job.
"I also think I'm especially attached to my job because I feel like I haven't connected well with other teenagers. Most of the people I work with are in their 30's and above and we get along really well. It's like we're a family," Szeles said.
Having just turned 17, Szeles practices balancing her job and the rigors of school, even spending her free fifth period at the shop in order to work as much as possible. Because she is still a minor, the law allows her to only work 4 hours on school days and 8 hours on weekends. Szeles maneuvers around this by volunteering at the flower shop once her 4 hours are up.
"Art is something I really feel like I can have some sort of expertise with," Szeles said. "You know sometimes when you're at school, and you feel like you're not good at anything? Like, I'm not good at math. I'm not that great at science either. But being a florist and working at that shop makes me feel like I know what I'm doing, and it gives me confidence."
Her sources of inspiration extend far and wide, from other florists' Instagram pages to weddings on TV shows. If she sees a certain color palette or arrangement she likes, she will try to recreate it at work. Making these arrangements can take anywhere from 5-30 minutes, depending on the flower and vase that she's working with.
"They're like nature's version of art. They have so many colors, shapes, textures and types. I remember I first got specifically interested in arranging flowers when I saw Ikebana, which is a traditional Japanese way of arranging flowers. It was the way they manipulate nature to create feelings and emotions that got me into it," Szeles said.
Szeles wants to continue growing her hobby in the future, striving to also turn it into her profession. She hopes to one day open a business, even if it doesn't end up being a flower shop, and continue implementing nature and art into all aspects of her life. 
"I'm also in AP art here, and I really love art. I can do it at my job, and so many things I learned at my art class here are things I can apply at the shop," Szeles said.
Despite the love she holds for her job, Szeles recognizes its overwhelming nature as she sometimes comes home in need of a break, unwilling to do her homework. Nevertheless, Szeles believes the occasional stress is worth it for the new friendships and good memories that have come out of it.
"You can make such beautiful art out of simple things, and that is the coolest thing in the world," Szeles said.
Leave a Comment
About the Contributor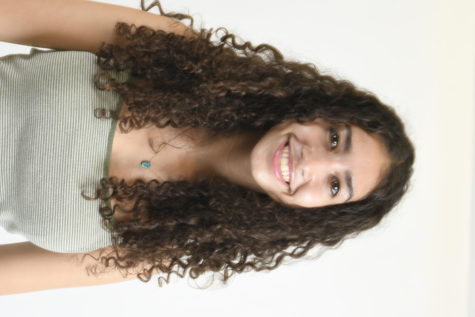 Yara El-Hasan, Staff Writer





Hi, I'm Yara and I'm a freshman. I love to write and spend time with my cat. I'm excited to be in Journalism so I can learn new things and meet people!