Students reflect on their time with the Dual Immersion Program
The words "elementary school" don't usually connote a sense of lifelong community and an extensive understanding of language. However, this generality is being challenged by the Dual Immersion (DI) program at Washington Elementary School.
Washington Elementary in Redondo Beach developed the DI program, where students beginning in kindergarten have the opportunity to learn both English and Spanish and emerge from elementary school bilingual. The first round of students to participate in this program were from the class of 2025, many of whom are now freshmen at RUHS.
"In kindergarten, [typical elementary school classes were taught] 90 percent in Spanish, 10 percent English," freshman Paula Valenzuela says. "And then as we got older, it pushed to 50 percent English. Basically it's a Spanish speaking program where we learned quickly in Spanish."
The DI program immerses students in the language and culture of Spanish-speaking countries by promoting discussions with peers and teachers in this second language.
"It's basically just putting you in real [conversational] situations instead of just teaching out of a textbook," freshman Liam Price said.
Freshman Taylor Roth, who also participated in this program, feels that it has well prepared her for her future and expanded the opportunities available to her. 
"I think just knowing this language will help a lot for jobs and then in college if you want to study abroad," Roth said. "With job applications, someone will most likely hire you if you speak Spanish well with other people."
This program taught students more than just Spanish and its culture, however. It helped them create a community of friends as close as siblings that they have maintained throughout elementary and middle school, and continue to carry with them as they enter high school.
"Literally our entire childhoods we spent together [which] built a community while we were really little," Valenzuela said.
This tightly woven community allowed the students to understand and appreciate the broader world they live in, which in turn helped them develop as students and citizens.
"In DI, we cared so much. Like we raised a bunch of money [for Hurricane Harvey]. I feel like it made everyone leaders," freshman Isabella Jones said.
Adams Middle School continued the DI program, heavily focused on culture, teaching both humanities and social studies entirely in Spanish. This, however, did provoke the students to consider an area that could have been improved with the program. 
"Once you get to middle school they should have done more than just cultural studies because we did the same thing for three years. They should have done something like cooking in Spanish, [not] just articles [on the culture of Spanish-speaking countries]," Price said.
In addition, after learning the language at such a young age, some students have found that practicing grammar in their current classes is more difficult than it is for other students, who have practiced textbook-style grammar since Spanish 1.
"They couldn't teach us the grammar because our class was wild, so then they gave up on it. So now when I'm learning the accents and stuff I can still do it, but [it's difficult]," Jones said. "I'm in normal Spanish 3, and we are not learning [grammar]; everyone already knows it and we're building on to it but I don't know it […] And I think that now they probably teach that [at Washington], it was just our class was the first class." 
Nonetheless, the four students unanimously agree that DI has impacted their lives in a multitude of beneficial ways. Valenzuela appreciates the program "more for the [communal] environment than the actual learning" but also believes that it "[made] it easier to talk" to her Hispanic family.
Roth also gained similar benefits from the program."Visiting [Spanish speaking] countries is super easy […] Speaking at restaurants and in public in general, if someone needs help, I'm like 'Oh, I know what you're saying. Let me help you.'" 
The students exemplified the deep understanding of themselves, their world and their peers that the program developed, creating a shared culture and community of classmates they will remember forever.
Jones recommended this program "100 percent […] It's probably one of the best decisions you could make."
Leave a Comment
About the Writer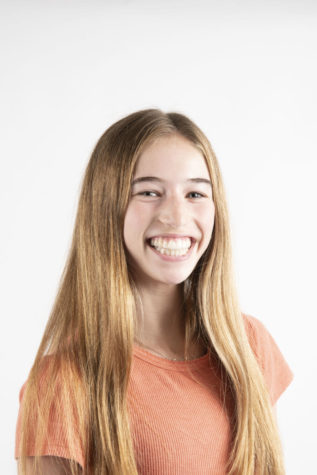 Lauren Greene, Staff Writer
Hi! I'm Lauren Greene, currently a junior at RUHS. When I'm not at school or doing homework, my time is mainly occupied by hours and hours of competitive gymnastics. I also love traveling and doing anything...