Who haunts us? Ghost stories from RUHS
Meet Jake, the theatre ghost, and Harold, the library ghost
Jake the Theatre Ghost
by Romi Riss
Missing objects. Creaking in the stairwell. Movement at the end of dark halls, and cold breezes that come from seemingly nowhere: the whispers of Jake the ghost fill the auditorium. 
Legend has it that in the 1940s, Jake died in the school auditorium, and haunts it to this very day. As the story passes down and changes from generation to generation of drama teachers and students, the eerie events remain consistent. There may be truth behind the myths, but according to school archivist Terri Martinez, there is no record of Jake. Despite her doubts on historical accuracy, after speaking at a school assembly, Martinez has no doubt of a spirit living in the auditorium.
"I was at the podium, I had my script and my keys, and I put my keys down next to my script. I proceeded to MC the assembly, and at the end, I reached down to get my notes, and my keys weren't there. I never left the podium, I didn't have a bag or anything. The auditorium was flipped upside down looking for the keys, they even went down in the orchestra pit because they were classroom keys. The stage manager at the time came out and told me that my keys were probably taken by Jake, the resident ghost. My keys were never found, it's unexplainable," Martinez said. 
Unexplainable missing keys is the least of Jakes spook. Many students have seen outlines of figures or quick movements across the window of the lightroom and behind the spotlight. The vivid image of someone behind the seat of the spotlight has students checking if anyone is up there, but there never is. Melissa Staab, drama teacher, can also attest to supernatural occurrences in the light room.
"The lightroom is motion censored and oftentimes no one will be up there at all and the light will just turn on," she said. Staab shared that her most frightening encounter was when she was sitting in the audience alone. 
"I hear somebody walking across the stage, and it really sounded like there was someone there. Our stage has a really large pit underneath so steps make a drum sound, like this," she said, banging the table to mimic loud echoing footsteps. "But when I looked up, nobody was on the stage."
I reached out to Jake for a comment, but I was unable to get an interview.
Harold the Library Ghost
by Emilie Takahashi
"Sometimes, if I'm in here by myself, I feel like there's other people in here," sounds like a one-sentence horror story, but this testimony comes from library staff who experienced mysterious occurrences at the library.
Librarian Cassandra Jones describes hearing doors creak open when no one else is there, and lights flickering in a "full on disco show," as well as technology suddenly being rendered unusable and the eerie sound of footsteps climbing up the library stairs. 
"I know he's awake when I hear the footsteps. It sounds like somebody is coming up the stairs, and they're not," Jones said, "I hear those footsteps all the time, so when somebody is actually coming up the stairs it's surprising since it's the same exact noise."
Although Jones has visited the library many times after dark she feels "more spooked" during the day with a "presence" she refers to as Harold. 
"He is not a menacing ghost. He's a 'pull pranks on you and make you second guess reality' type of ghost," Jones said, "We just cohabitate together."
Jones has had trouble convincing "all the haters" that the ghost in the library is more than coincidence.
"If you spend enough time here you'll feel it. This isn't satire. Harrold the ghost is real," Jones said.  
Jones also wants to make certain that students don't feel any hesitation going to the library after learning of Harold. She assures students that he is "definitely not something to be afraid of." 
"That's the thing about Harold, he's really nice. I don't think he's trapped here on earth because he was a bad person in his former life," Jones said, "I would not come here if it was a true bad spirit, I would genuinely choose not to be here. I'd be too scared."
Leave a Comment
About the Contributors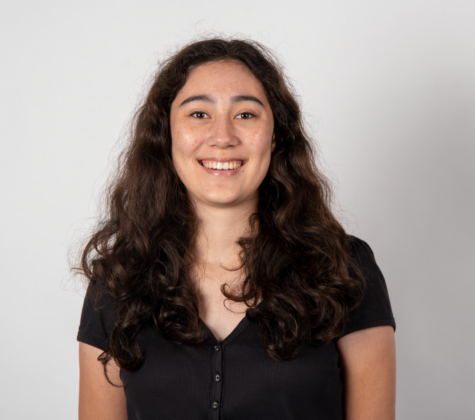 Emilie Takahashi, Features Editor
Hi! My name is Emilie, this is my fourth year on staff and did you know that green onions are super easy to grow in your backyard? Because I didn't know until I told my friend how excited I was about growing...