Lemon Poppy Seed Cake Recipe
Simra shares a recipe that is perfect to start off the spring season
Want a zesty treat to kick off the spring season? Nothing is better than starting with some fresh lemon cupcakes frosted with lemon cream cheese buttercream. Take these with you on a picnic at the park and these will be the perfect addition to your basket. These were super fun, and a little messy, to bake. But in the end, the fluffiness of the cupcake layered with the tangy buttercream will have you reaching in your basket for more.
Ingredients for Cupcake:
1 ½ cups all-purpose flour
1 teaspoon baking powder
½ teaspoon baking soda
¼ teaspoon salt
½ cup unsalted butter softened to room temperature
1 cup white sugar
2 tablespoons lemon zest (optional)
2 large eggs
1 teaspoon vanilla extract room temperature
⅔ cup sour cream room temperature
3 tablespoons lemon juice* freshly squeezed
1 ½ tablespoons poppy seeds (these are also optional, but if you want an extra crunch to your cupcakes, add these in)
Ingredients for Lemon Cream Cheese Buttercream:
1/2 cup unsalted butter, room temperature
1/2 cup cream cheese, room temperature
1/2 teaspoon salt
1 teaspoon vanilla extract
2 tablespoons fresh lemon zest (optional)
4 cups powdered sugar
2 tablespoons lemon juice
Lemon Cupcake Directions:
Preheat the oven to 350F degrees and line 2 muffin pans with liners. You'll end up with about 14 cupcakes in total.

In a large bowl sift together the flour, baking powder, baking soda and salt. Give them a whisk.

In a separate large bowl, beat the butter, sugar and lemon zest until fluffy.

Beat in the eggs and vanilla extract.

With the mixer on low speed, beat in about ½ of the sour cream followed by about ½ of the flour mixture. Turn off the mixer and scrape down the sides of the bowl.

Repeat the process with the rest of the sour cream and flour mixture.

Gently fold in the lemon juice

and poppy seeds

Spoon the batter into the prepared muffin pans filling each about ⅔ full. You should get about 14 cupcakes.

Bake 1 tray at a time on the middle rack of the oven for 16-20 minutes, or until the tops look set and an inserted toothpick comes out clean. Cool in the pan for at least 10 minutes, then continue cooling on a wire rack.
Lemon Cream Cheese Buttercream Directions:
Beat 1/2 cup of unsalted butter and 1/2 cup cream cheese on a medium speed for 30 seconds with a stand mixer or hand mixer until smooth.

Add in 1/2 tsp salt, 1 tsp vanilla extract and 2 Tbsp lemon zest and beat on low until the ingredients are incorporated. 

Slowly add in 4 cups of powdered sugar, adding in 2 Tbsp of fresh lemon juice half way through.

Once fully mixed, if the frosting seems too thick, add in additional cream or milk (1 tsp at a time). If the frosting is too thin, add in more powdered sugar (quarter of a cup at a time).

Mix on a low speed for a few minutes to make the frosting super smooth.

Place the buttercream in a piping bag fit with a fun frosting tip and frost the cupcakes when they're cooled.
Leave a Comment
About the Contributor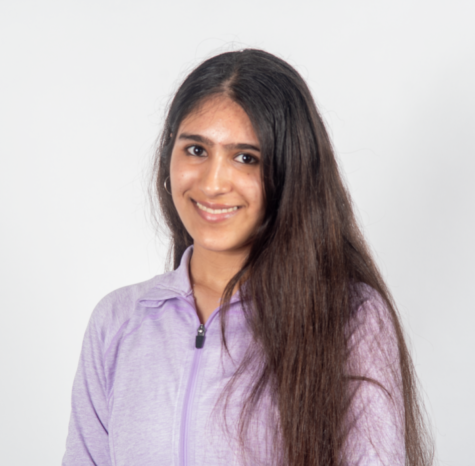 Simra Zargar, Writing Editor
Hi, I'm Simra and this is my third year on staff. I'm a writing editor.