Local Coffee Review
Online Editor Chrissa Olson gives her opinion on four local coffee shops
You know what's bitter? Orange peels. Grass. Revenge. The feeling you get when your parents don't congratulate you on your accomplishments. Coffee.
Although reviewing orange peels, grass, revenge and unresolved familial issues sounds pleasant, I chose to review coffee from four independent coffee shops around Redondo Beach: Pursue Coffee, Boy and the Bear, Hifi-Espresso and Coffee Cartel. 
Some of the coffee from these shops made me happy to sit down, flex my fingers and review their pretty lattes while on a caffeine high. 
And, well, some of them made me want to eat grass and review that instead.
Pursue Coffee: Korean-owned coffee shop on Aviation Blvd with a cozy interior. They have a BTS music video on the home page of their website, so they made a good first impression.
Latte:
If you want to drink coffee before bed, go to Pursue Coffee and get their latte. This is the smoothest, creamiest latte out of the bunch. This latte was not bitter at all, but it still kept its coffee flavor. However, I have two grievances. One is that it was only lukewarm when I received it. The second is that I was not wrapped in a very fluffy blanket while having bedtime stories read to me as I drank it, which is admittedly my fault. If you'd like a coffee that wakes you up, maybe try a different one on this list. But if you're like me, and you want a comfort coffee, this is the latte to try. 8/10
Cappuccino: 
Cappuccinos are espresso shots with steamed milk and milk foam. I quite enjoyed this as well; it was just similar to the latte, just more bitter. It had a slight tang to it, and came out warm instead of hot as well. It's an average, but nice cappuccino with a uniform, smooth taste. 7/10
Boy & the Bear: The coffee shop next to Starbucks that you could go to, but you don't. You should! The aroma is gorgeous there.
Latte: 
Boy & the Bear's latte had a slight nutty flavor that reminded me of Christmas time, and I enjoyed it. However, that was the only thing unique about it; it was a pretty average latte all around, but I'm not complaining. It was sufficient. 6/10
Macchiato: 
This was a harsh macchiato, but it was smooth and roasted just the right amount, for I didn't detect any burnt or vegetal flavors. Surprisingly, it left no aftertaste despite the harshness, which I appreciated. The pain of choking down a bitter shot was made better by the fact that the taste did not last longer than the few seconds it took to pass over my tongue. 7/10
Hi-fi Espresso: A coffee joint with a sheek appearance and cleanly interior. Enough to get an A from the health department, but not from me.
Latte:
This latte started off nicely, when the only thing I could taste was a fluffy milk cloud on top. However as soon as I got to the actual coffee taste, I had an epiphany: This is not a latte. This is the juice from a can of green beans cleverly disguised as a latte. The art on top was nice, and it originally smelled good, but as I continue to drink it now, it tastes more and more like the Green Giant's sweat. The flavor verged on more vegetable than roasted bean. If I wanted vegetables, I'd go to the Vons up the block. 3/10
Macchiato:
I could have just gone home and downed a shot of vinegar and saved four dollars. Listen, I understand that macchiatos are supposed to be bitter. They are literally shots of espresso with just a splash of milk. But this was different. It was like consuming battery acid. However, it did come hot, if that somehow makes battery acid taste better. 2/10
Coffee Cartel: The nicest interior I've seen thus far. It's like a cozy, wooden library, but you can't take the books home. However, you can take home a nice latte.
Latte:
This is the best latte off this list. Hands down. It had a slight sweetness to it, paired with the fatty whole milk, which made it quite a treat. Richer and thicker, this latte topped the others on this list. Even after it got cold, I continued to enjoy it. I will be returning. 10/10
Macchiato:
This is the strongest macchiato I've had out of the bunch, but it was still drinkable, proving that a strong macchiato doesn't necessarily need to taste terribly bitter. It had a slight acidity to it, but it wasn't too much to the point that I couldn't down it in very small sips. Nice, but not too remarkable. 6/10
Leave a Comment
About the Contributor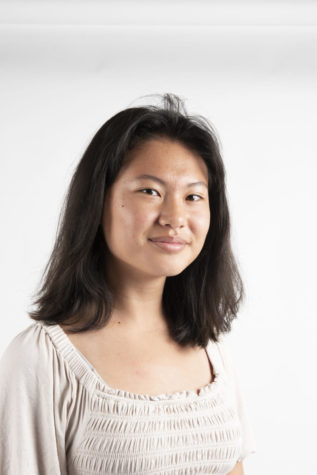 chrissa olson, Editor-in-Chief
I got this position based on my looks.