Just keep swimming
Senior Sarah Quayle becomes the athlete representative for Southern California Swimming
Senior Sarah Quayle has been selected this year to be an athlete representative of Southern California Swimming (SCS), a youth athlete organization. 
The SCS acts as the governing body for all teams in Beach Cities Swim and in the Pacific Committees. Their responsibilities span from organizing big meets to establishing rules and regulations. There are also designated positions for young athletes, called athlete representatives, to participate in making decisions influencing many athletes in SCS.
"I figured it would be interesting to see what's happening behind the scenes. You see what comes out of it, but you don't really know how that happens. I thought that it would be really informative to get involved and see what goes on," Quayle said. 
For this position, some eligibility requirements include being over 14, in highschool and being registered on a USA Swimming club team for at least two years. Most importantly, leadership is a highly valued skill. Per every team, there are usually two athlete reps. 
"They needed someone who had been swimming for a while. Somebody who was dedicated to the sport and who knew how important SCS was to the swimming community. In my application, I made it really clear that I wanted to speak for everybody, and it was something I really cared about. My passion for swimming and my ability to be a leader were the two biggest components in me being selected for the position," Quayle said.
Due to COVID-19, the usual in-person monthly meetings in Pasadena have been replaced by Zoom. According to Quayle, Zoom meetings have worked in her favor. Being able to avoid the trek up to Pasadena simplified the process.
She usually spends approximately five hours a month either in these meetings or preparing to report for them. Since many swimmers are "struggling to find time in the water," and multiple swim meets have been canceled, the athlete reps and officials are frequently discussing when and how to bring teams together safely.
"It's really unprecedented. It's brought up an interesting debate that's been recurring. We're figuring out how we're going to get this done," Quayle said.
Other times, Quayle listens to coaches and officials discussing new business. Additionally, as a voting member within SCS, she is responsible for voting on board members and new rules. 
"It was cool having a say directly, getting to vote, and having my vote being heard there. I would say that's probably the most power that I hold, to be able to vote in the situation," Quayle said. 
At first, Quayle was unwilling to partake in discussions, thinking her opinions didn't really matter. However, she came to realize the very opposite.
"I need to speak because there are people who I'm speaking for. If I'm not going to say anything, that's really selfish. It's crucial that you share how you're feeling. If you don't, they can do things that you might not like," Quayle said. 
Additionally, the insight she gained helped her understand the democratic and political aspect of the position. It has helped her become a more "reflective" person, she said.
"I didn't want just the loudest opinions to be heard. I wanted to reach out to people, to see how they felt about things, [and] to be a good representative for all the swimmers," Quayle said. "Now that I have the ability to make change, I want to really think through what I'm doing."
Leave a Comment
About the Contributor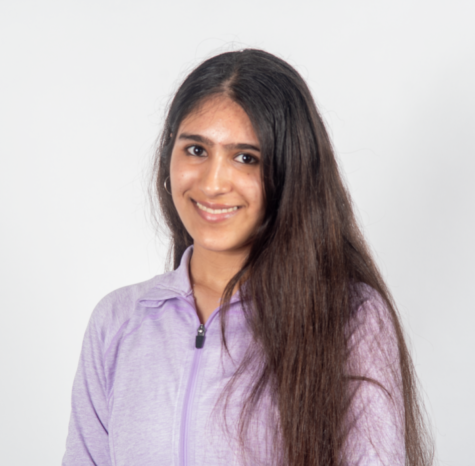 Simra Zargar, Writing Editor
Hi, I'm Simra and this is my third year on staff. I'm a writing editor.