Dia De Los Muertos: A Day of Love and Celebration
Students use DDM projects to connect with ancestors despite changes to the festival
Faces painted white and black walk the rows of the library, their skeleton faces spreading into smiles as they surrounded themselves with memories of lives now gone, and the celebrations of the living. Through food, altars, and colorful pinatas, Spanish students celebrate the Day of the Dead with their families and friends, indulging in Pan de Muerto and face painting.
Through Dia de los Muertos, individuals each get to commemorate their deceased relatives and loved ones, honoring their life and death right here in RUHS through their involvement in Redondo's Day of the Dead celebrations. Students get to incorporate their individuality within their tribute to their loved one, each taking the time to honor them with masks, pinatas, and altars.
"I did my mask on my grandma Margaret who passed away before I was born," Freshman Makenzie Smalling said. "I feel like this mask was a great way to try and get to know her better and possibly build a connection with her even though we've never met."
Through this project, Smalling found an opportunity to learn of the woman who shares her middle name, and be enlightened of her experiences. 
"It was awesome learning about her life with my dad and just getting to see what she was like and some of the things she did in her life," Smalling said. "I also realized that a lot of the things she enjoyed doing were things I also love to do, like singing, cooking, and sewing. Knowing that I had these similarities and similar interests helped me to build that connection to her." 
Smalling wasn't the only one who discovered interesting facts about her ancestors and built new bonds. Freshman Neylan Kabir has learned and become inspired by her late grandfather and his experiences.
"He means so much to my family and I because of all he's done to impact our lives," Kabir said. "He made the decision of leaving his home to go to a foreign country just so he could help out his family. He also had multiple jobs so he could raise them. Overall, he was just a hard worker who put his family first, and that is why he means so much to me."
Students could also get involved in the celebration through volunteering and helping out the teachers. Senior Maya Gonzalez has been a part of the event for years, attending ever since she was small with her mother to help out and enjoy the holiday. 
"Even though every year has been different, it's always been one of those experiences that I feel dear to my heart," Gonzalez said. "You get to see the students' Spanish projects and the creativity in each one. Seeing the altars made to honor a loved one or celebrity is nice, and the candles give a heart-warming effect. It's very peaceful." 
Last year, Gonzalez made her own altar of her deceased grandfather, but also expressed her love of the holiday through her involvement in the Salsa club. 
"The best part of that year was being able to perform Baile Folklorico, a Mexican folkloric dance that I've done since I was 3 years old," Gonzalez said. "When performing in Dia de los Muertos, I get to showcase my talent, passion, and I feel that this would also make my ancestors proud for expressing my Latina roots and my pride in my Mexican heritage."
Leave a Comment
About the Contributor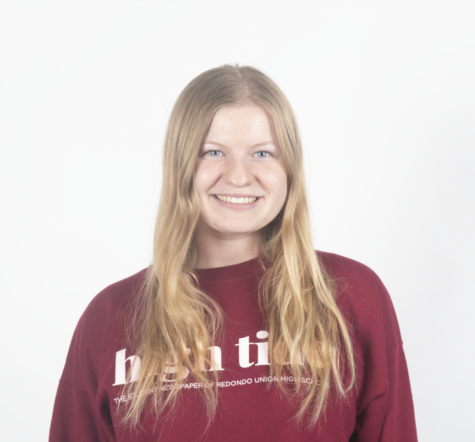 Ruby Crosthwait, Editor In Chief
Hi! I'm a book, dog, and boba lover, and I don't really know what I'm doing, but who does?