Going pro
Quevedo receives marching contract
From high school musician to world class marching participant, junior Julian Quevedo was offered a Drum Corps International (DCI) contract to play in the A corps of Santa Clara Vanguard.
Santa Clara Vanguard is a drum and bugle corps marching band that consists of brass, percussion and horn instruments, as well as color guard, a team of dancers. Traveling across the United States, they perform in front of thousands of drum corps fans who are just as passionate about drum corps as the people involved.
"It's hugely popular," Quevedo said. "Drum and bugle corps are the forefront of marching arts and marching band in general."
Currently, SCV is the current DCI champion, and have won the title seven times.
SCV is primarily open to ages 18 through 21, especially the A corps. Around the middle of May, all the musicians move in together and rehearse all day, for about two and a half months.
"It's a grueling 12 hour rehearsal, because the hardest thing about Drum Corps is waking up everyday, and being the best version of yourself," Quevedo said. "That constant performing mindset, even though you've been running the same chunk for hours on end, you gotta still perform like it's the show."
After rehearsing everyday for almost two months, the Drum Corps begins to travel to different sites all across America, performing shows every day in different cities.  
The Drum Corps is divided into two groups: Cadet Corps and A corps, with roughly 150 people in each group. Last summer, Quevedo partook in the Cadet corps, gaining enough experience to take him to the next level, A corps. Although, Cadet corps is less rigorous, and more about experience.
"They're a lower skilled group, [but] still a fantastic Drum corps," Quevedo said. "[But] younger, and less talented, while the A corps has the highest level of marchers, musicians, and dancers."
Being the more rigorous and prestigious group, the A corps requires more effort and dedication from all its participants.
"Not only is it harder to get in the corps, they go harder, they don't waste a single rep, [as in] repetition," Quevedo said. "Chunking each moment in the show, the A corps is always performing 24/7, they're always striving to be better than they were last rep, they're striving to be the best versions of themselves."
The DCI competition consists of a field show, where each group performs, and gets scored in several categories. However, the Cadet Corps and the A corps don't perform at the same competitions. They're spread out across U.S. because they're divided into different divisions: World Class and Open Class. World Class is higher skilled, and Open Class typically has more high schoolers and smaller corps.
Now considered family, Quevedo has met and made people whom he will forever consider as his friends. Even though both corps do take different paths, there is still a familial connection between the two.
"The Cadet corps and A corps is like little brother, [and] older brother, like one big family," Quevedo said.  "It's definitely a family for me, It's the Vanguard family, and I can't wait to march with them next summer, [because] the dedication is really there, because people are just living every moment for it, every moment to improve."
More indication of their familial bond is in the Birthday brunch, where alumni return, and the current corps perform, as well as the family day where the Cadet corps and A corps meet at Santa Clara High School and watch each other's shows.
Having auditioned for the A corps last year, Quevedo was cut, but wasn't discouraged.
"I didn't give up, because I wanted to march with the cadet corps, which would be more realistic for me, since it was my first year marching [with the group]," Quevedo said. "There's a lot of people who marched the cadet corps, have a great experience, and then have the skill they need to be world class performers."
Quevedo says the auditioning process keys in on what the actual program will be like. During Thanksgiving weekend, a weekend long camp is conducted, where participants are not only auditioning, but interacting with staff.
"They're evaluating you to see what kind of person you are, and to see what kind of performer you are, and they care about both," Quevedo said. "They want to see your dedication to the activity, and they want to see you improve, they want to see how easily you pick up new concepts and perform on the spot."
The weekend long audition is split into three parts: There's a marching audition, where you march an exercise, a drill. There's a dance audition where you will perform choreography, which they designed before the camp. Finally, there's a private music audition.
"They're looking for people who are the best dancers, the best marchers and the best players," Quevedo said.
Like the color guard, both dancers and players must be able to dance. The only difference, color guard is holding flags, rifles and sabers. However, during the audition, players are not holding their instruments, it's "full body" routines.
Quevedo attributes his mom to his early musical indulgence. Although none of his family members partook in marching band, his mom plays guitar, and was an important musical influence at a young age.
"She's definitely the reason I started playing any music," Quevedo said. "She's the reason I got into piano, which is the reason why I did band, and playing tuba, and the rest is history, so yeah, my mom is a huge influence for me."
As far as pursuing a career in music, Quevedo just enjoys being able to play, and is looking forward to the upcoming summer.
"I don't plan on pursuing music professionally, but I would love to play for the rest of my life," Quevedo said. "It brings me a lot of joy, it's something for me to feel happy about."
Leave a Comment
About the Writer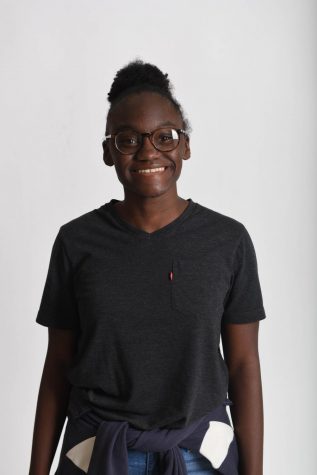 Taylor Quaye, Staff Writer
This year I'm a junior, and I decided to take the journalism class because I enjoy writing, especially writing stories about real life situations. Im originally from Maryland, but I've lived overseas...