Pura Vita
Spangler's family opens up Vegan-Italian restaurant, Pura Vita
Think of Italian food. You're probably visualizing pizza, pasta, cheeses, perhaps delicious meats. Did the word "vegan" come to mind? Probably not.
With the rising trend of veganism, junior Lilly Spangler and her family opened up the first vegan Italian restaurant and wine bar in the U.S alongside executive chef, Tara Punzone who has more than 20 years of experience. Located in the heart of West Hollywood, Pura Vita opened four weeks ago and serves a variety of pasta and lasagnas, all 100 percent plant-based.
"The idea came up around a year ago. I remember my parents saying that we were going to open a restaurant, and I didn't really believe them. I thought it was a possibility, but when it actually became a reality about three or four months later, I was really shocked," Spangler said.
When Punzone suggested to open a restaurant Spanglers dad, Jay Spangler, was fully on board since "it's not everyday that someone opens up a restaurant."
"It was kind of like a seize the moment kind of opportunity. It was also perfect timing because there was a place that went up for sale and West Hollywood is such a diverse location," Spangler said.
Due to the Spangler's vegan lifestyle and Punzone's Italian heritage, they decided that Vegan-Italian would be the way to go.
"My family is very plant-based and we've been eating vegan for a very long time. We're not always vegan but we do have a mainly vegan diet. Tara is also vegan and she worked for Real Food Daily which is a vegan restaurant and she's very skilled at what she does," Spangler said.
The reconstruction of the former sushi restaurant started this summer and was described as "a family project unlike no other". During the sanding, fixing, painting, and decorating community members were invested in the progress of Pura Vita.
"When we were working on it, everyone would be interested in what we were doing.You'd be surprised how many people walked by and would peek in the window or knock on the door. When we opened a lot of those same people came back to check it out and a lot of locals, family, and friends came because we really got the word out there when opening," Spangler said.
Opening Pura Vita in West Hollywood was an "obvious" choice since the vegan community is already "accommodating and huge," according to Jay. Opening night was an "amazing experience."
"There is a line out the door every night. We have to take reservations and the local community has already welcomed us with a ribbon cutting," Jay said.
Jay believes having a mainly vegan restaurant is unique because vegan choices are "limited" at most restaurants.
"As a vegan, being able to walk into a restaurant that is 100 percent plant-based, you know that you're not going to accidentally get food with dairy or meat. It's very liberating to eat in a place that is 100 percent vegan with no questions and no worry," Jay said.
Although it opened four weeks ago in West Hollywood, the next step to expanding Pura Vita is opening one in the South Bay, according to Spangler.
"Veganism is such a popular trend and everyone wants to try something different and be healthy. I'd recommend just trying it. I think that many people think it's difficult, but when you actually try it, it's really rewarding We're the only Vegan-Italian restaurant in the U.S and were hoping to attract anyone and everyone," Spangler said.
Leave a Comment
About the Contributor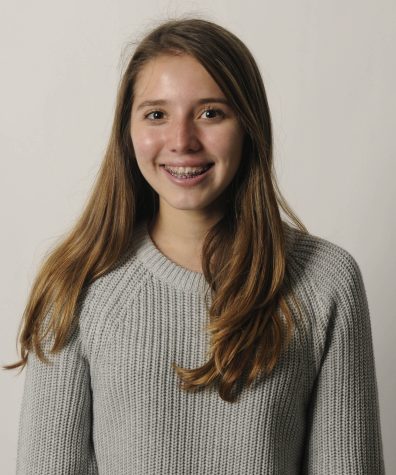 Nicole Sandoval, Staff Writer
Hi! I've been playing tennis for nine years and I love camping, swimming, and doing absolutely nothing. My favorite movie is The Theory of Everything and I love burgers.