On pointe
Allexxis Allen dedicates her life to contemporary dancing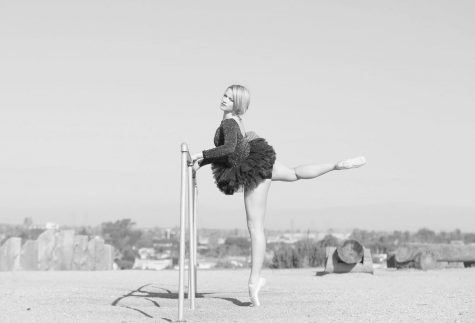 For junior Allexxis Allen, dance has been a part of her life since she was two years old. She dedicates more than 20 hours to dance and travels over 1,000 miles a week to get there. With this huge commitment, many awards and prizes have followed, including two national titles as well as scholarships to dance for schools, such as Juilliard, in the summer.
Because she's been dancing for so many years, Allen has learned to love the art of dance and enjoys performing because of the feeling she gets when she dances.
"What's really cool about dance is that it is all muscle memory, so I don't even have to think about it when I'm on stage. I could be in ten different numbers and I would be able to remember every single dance and everything I have to do for each, because it's all muscle memory," Allen said. "When I'm on stage, it's like a cloud in my head."
Although she loves doing her solos, Allen especially likes dancing in groups because of the upbeat environment it brings.
"I feel a huge adrenaline rush when I'm dancing, particularly when I dance with a group. I feel everyone's energy and I get really excited because we think as a group and move together. When everyone is going full on, landing their turns and I can feel that the team is super strong, it just feels so good," Allen said. "And then when we go to awards and win and get money or prizes, it's so worth it at the end. All the training pays off."
Allen began competitively dancing at the age of five. She has danced at two other studios before she found her current one, Just Plain Dancin', a top studio in California located 100 miles away in Corona. She dances from 5:00 to 9:30 p.m. every Tuesday, Wednesday and Thursday, every Saturday from 8:00 a.m. to 1:00 p.m., and also every Sunday.
According to her mom, Bella Allen, the first national title she won was in eighth grade for a solo she devoted to her childhood best friend, Chase Stecyk.
"This solo she was coined the Dancer Against Cancer, which is a campaign that helps to bring awareness for fundraising research for cancer. When she won that title it was the biggest thing to happen to her in her entire life because it was for such a touching cause. I've never seen her more elated," Bella said.
After winning her first national title in 2014, Allen won a second one the following year, which lead her to finding her current studio.
"When she won that first national title, I was like 'Uh oh we have a problem here' because her studio at the time was holding her back, they didn't want to move her up. So the next year, when she won it again, we started looking around for other studios," Bella said. "Allexxis got accepted into all the studios she auditioned for, but Just Plain Dancin' was something different. They were willing to do whatever Allexxis wanted as long as she came to dance for them. They really unlocked her gift."
Along with her national titles, Allen has won personality awards, teachnique awards, costume awards and crowns. Because of her big wins and recognition at competitions, she has be given many great opportunities to improve her dancing.
"Allexxis has danced on the Royal Caribbean and Prince Cruises. She's also been training in New York over the summer for the past last three years, and this past summer she got accepted into Joffrey Ballet and Julliard. So it's been pretty exciting to see her get these opportunities and grow as a dancer," Bella said. "Last year in New York, she was the youngest kid in class around a bunch of New York professionals from Broadway shows and they would walk up to her asking 'How old are you? You're great, I can't believe you're so young and you're hanging in.'"
To add to all the dance classes she has been accepted to, Allen has also gotten the opportunity to work with professional choreographers, along with some of the professional dancers from 'So You Think You Can Dance.' She also has a professional designer who creates all her costumes for her dances.
With so much time focused on dancing, Allen has very little free time.
"It's really hard to balance school, friends and my social life. I've learned to just take out the people that don't understand my schedule. However, I'm lucky enough to have friends that understand what I love to do and they know how blessed I am to have this gift of mine. My friends are also busy, so trying to coordinate with all our schedules is really hard but at the end of the day, we're all really happy for each other because we're all doing something we love," Allen said.
Although she doesn't get to hang out with her friends very often, Allen is glad that she chose to continue to go to a regular high school rather than attending an art school. This has allowed her to have more time to see her friends, as well as get a chance to be a normal high school teenager and have time away from dance.
"I was deciding on going to Orange County School of the Arts (OCSA), but then I auditioned and of course I was auditioning for the hardest program there, so I didn't make it. But as I kept going through the school, it didn't feel like a school, it felt like a business. It just didn't feel like home, there's no football games and sports games to go to, it's just art stuff," Allen said. "I ended up getting in after the third time, but I decided against it."
Allen is able to do what she loves because of all the support she receives, especially that from her parents.
"My parents are really supportive of me in dance and they'll do anything to make me happy. They try their best to get involved and my dad would even do rhinestoning for me; he rhinestoned my whole entire costume when I was six," Allen said. "My mom is like a dance mom. She does the rhinestoning and cameras and makes sure that everyone's makeup is perfect and their hair is pinned up."
Allen's main supporter is her mom. With all the time, money and energy she dedicates to her daughter and to her dancing, she is proud of the dancer Allen has become.
"At times it's been really hard to deal with everything. As a parent it was difficult to see the old studio hold her back just because she was not one of the strongest dancers. But then to see that reverse  and watch her dance in top categories against the same team that said she was horrible, it's hard not to get emotional," Bella said. "She goes out there and doesn't realize that she's dancing against some of the top dancers in the competition world. She use to watch these very same kids on stage and now she's dancing with them. It's strange for her, but I'm so proud. As a parent I get teary eyed because two years ago she was in the back of the class and now she's a top dancer."
Leave a Comment
About the Contributor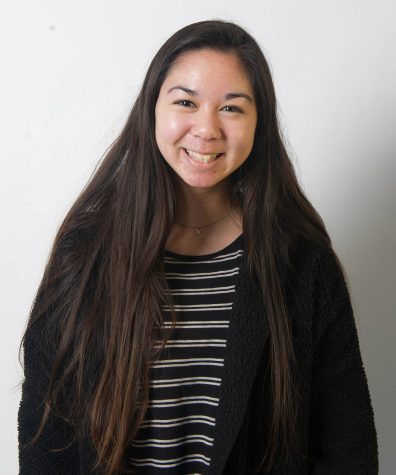 Kayla Hiken, Staff Writer
This is my third year in the journalism program and in these past few years, I've learned a lot about myself and who I am as a writer. Journalism has helped me get to know students on campus, get involved,...