Being a successful business owner takes time, customers and strategy. For young entrepreneur and freshman Evan Mueller, starting a business wasn't only about making money, but also preparing himself for the future. Mueller says he finds joy in side-hustling, specifically through buying, selling and trading Slunks, a popular brand of board shorts in the volleyball community. As a volleyball player living in California, Mueller has always had big aspirations for his future. 
"I've always wanted to live [in Redondo Beach] my whole life, I want a car and I've always wanted a way of earning money, but I never knew how to start," Mueller said.
With these big goals, Mueller knew he needed to start hustling early on. When Mueller first buys the Slunks, he goes to drops from exclusive booths set up at volleyball events all over the state. Then, he trades the shorts with other volleyball players and resells those Slunks to make a profit. 
"I was doing my research and I found out there was an upcoming drop in Laguna Beach, so I went all the way to Laguna Beach and I got the Slunks for $60.60. I was able to resell each pair for $140 each, so I easily doubled my money," Mueller said.
Mueller says his interest in business and money sparked in the eighth grade when he started networking to sell candy to students. While selling in school risked suspension, Mueller was able to present his business to a widespread group of potential customers.
"When you're a twelve-year-old kid selling candy [at school], knowing you could get suspended, it takes guts obviously, but it pays off," Mueller said. "I always put school first, but I've never been afraid to make money."
According to Mueller, a large part of his current success with candy and Slunks is from networking with customers. 
"You have to be able to go up to somebody or direct message them and be friendly," Mueller said. "In person, be talkative and always have a smile. You need social skills in business."
Mueller claims he was making a "decent profit" from selling candy, but he wanted to expand, so he started selling Slunks. Using his networking skills from selling candy, and with the help of his older brother Easton, a volleyball player, Mueller was able to connect to a widespread customer base and build his reputation as a reseller. 
"My brother knew important volleyball people who were going into college and didn't need their Slunks, so they sold them to me at $30 to $40. The pairs were actually worth over $200. Selling those really kick-started my business," Mueller said. "After reselling and seeing the money coming in, I got really hungry to get after [my business]."
After having learned the value of networking, Mueller now focuses on managing his inventory and giving the best experience to his customers in order to maximize his revenue.
"You determine how much money you make," Mueller said.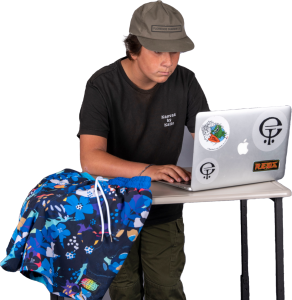 Over the last year, a large portion of Mueller's sales now comes from the 1,300 plus follower community he's built on Instagram under the username @sacredslunks.
He runs most of his operations on Instagram, where he uses polls to connect to his customers. According to Mueller, he spends hours a week selling shorts, prioritizing his customer's needs. 
"With Instagram story polls, you can see people's [responses] and see what they want," Mueller said. "You can say, 'Would you guys like a bid for this pair or would you like a raffle,' and see the results so that people have an impact on the decision."
Though he says he's done 95 percent of the work on his own, Mueller credits his parents' influence for his current business mindset and independence.
"A big thing for [my success] is having parents that support me, but [don't] just give me everything I want. Growing up, I never got things handed to me," Mueller said. "My parents bought me stuff, but a big thing they taught me was that they would never buy big things for me. I'd have to save up and make that money. If I really wanted something, they wanted me to go earn it."
Through everything, Mueller says he has never given up for one reason, his dad.
"My dad's my inspiration. He's definitely my drive to keep going because he's one of the hardest workers I've ever met," Mueller said. "He's taught me that if you put in the work others don't, you'll get the results others won't."
In ten years, Mueller's father says he sees his son happy, living out his best life as an entrepreneur, taking the road less traveled, always following his moral compass and "full-sending" anything he puts his mind to with passion.
Looking back on his entrepreneurial journey so far, the younger Mueller doesn't regret any of the choices he's made, nor the opportunities he hasn't taken for his business.
"I don't think I would be here today if everything went perfectly," Mueller said. "I'd have improved my business, but I wouldn't be the person I am. Your mistakes build you, and if everything went right, then that wouldn't be [meaningful] success. Facing challenges is the biggest part of business."