The Dog Whisperer
Senior Sydney Maleman works as the president of a local dog and rescue, Rover's Retreat.
If every dog owner has a special connection to their pet, then senior Sydney Maleman has helped make countless of these connections, working as the president of Rover's Retreat, a local dog foster and rescue.
Maleman began fostering for Rover's Retreat six years ago, and as she dove into the inner workings and "behind the scenes work" of reviewing applications and managing fosters, she eventually reached the position of president.
"I think for a while, I was doing everything without a real title and I didn't really mind just because I felt like we had a good team and we were all valued in one way or another. But, I mean, it feels good to be recognized with that title for all the hard work that I do. Still, it doesn't feel very different because it's still the same work that I've been doing this whole time," Maleman said.
Rover's Retreat rescues and fosters dogs locally and internationally, working with shelters in the LA area such as West Valley Animal Shelter and bringing dogs in from places like Turkey. Maleman coordinates a sizable team of volunteers who manage paperwork, foster dogs, and set up adoptions. Recently, international rescues have also involved pick-ups from the airport.
"Because [the adoption process] is so in-depth, it requires a lot of time on our part. It's a very high stakes situation. The decisions that we make are lifelong decisions for these dogs. It's very stressful, and there's a lot of pressure in terms of doing right by the dog," Maleman said.
With her experience as a dog owner, Maleman has become more familiar with how to handle dogs and their nature, which helps her as president care for dogs and match adopters.
"My dog has always been very temperamental. She is very sweet with most people, but if she doesn't want to be picked up, or she doesn't want to be pet, she will not hesitate to growl or snap or even fight. Growing up with a dog like that and parents who every time that would happen would say, 'well, you got in her face, you kind of deserved it.' has has taught me that it really is not ever the dog's fault. In any situation where a dog reacts, it's not their fault," Maleman said.
Maleman describes how it's common for people to expect perfectly behaved dogs, while ignoring that dogs are "individual beings", which leads to unfair returns. She believes that with education and more familiarity, those beliefs can be dispelled.
"I think especially rescue dogs, but dogs in general, are not here to appease what you want, they are their individual self and it's not just all about what you want," Maleman said. "We're very open minded to the fact that people can change their views [about dog behavior]. People can change their mindset if they care enough to save a life and to help these dogs."
After adopting through Rover's Retreat 3 years ago, Danelle Levin joined Rover's Retreat and is now a board member for the rescue. When it came time to elect a new president in March, Levin nominated Maleman, recognizing how she always went  "above and beyond" for the dogs and the rescue.
"[With dogs] she'll get on the floor. If it's a playful puppy, she's on the floor roughhousing. If it's an elderly dog, she's petting and talking to them gently. All dogs love Sydney," Levin said. "She has tons and tons of knowledge, and is very dog centered. She's really learned a lot through her work, and is always looking out 100% for the dogs and 100% for the organization. She's become somebody that we very much respect and look to for her opinions and insight." 
When Levin began working at Rover's Retreat, she learned from Maleman how to do home visits and screen applicants, and came to see her as a mentor.
"I forget that Sydney is as young as she is. She's a very old soul and has maturity beyond her years and is well spoken beyond her 18 years. I completely respect her and always look to her for her opinions, and for what to do in a situation," Levin said.
In order to manage her time, Maleman uses calendar dates and alarms, but admits that she has "always struggled with time management". Dog rescue and fostering can be unpredictable, with both good and bad surprises.
"We had three puppies test positive for distemper[a contagious and serious disease, especially for puppies],  so I was on standby driving to and from the valley during rush hour everyday after school during finals, which is not ideal. I should have been studying and focusing on finals, but it was also quite literally life and death," Maleman said. "Sometimes it's a good last minute, like, 'oh, we just screened an adopter for a dog who's been rescued for so long', and I have to scramble to make that meeting happen that day or the next day."
In her work for Rover's Retreat, Maleman believes that an in-depth and high standards approach that sets families up for a happy ending is best.
"Other rescues who aren't very cautious [are] just like, 'whoever wants to give a dog a home can have a dog,' and those rescues experience significantly more returns. Because then as soon as the dog does something that the people don't like, then the dogs are back and they lose their home. And at the end of the day, that's not the point of rescue. Finding permanent homes for dogs, regardless of how long it takes to find that permanent home, ensures that it's the right thing and that we make forever matches," Maleman said.
Leave a Comment
About the Contributor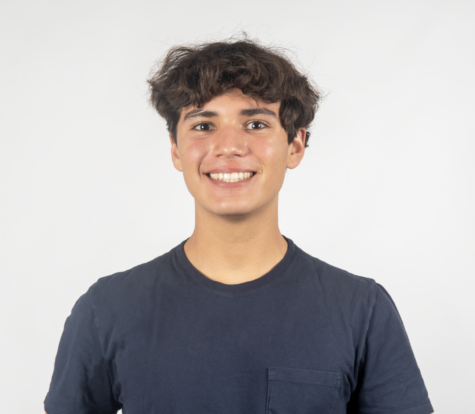 Victor Simoes, Staff Writer
Owner of the world's largest superiority complex.