Still in their Prime
Metallica's new album "72 Seasons" brings the heavy metal genre back to life.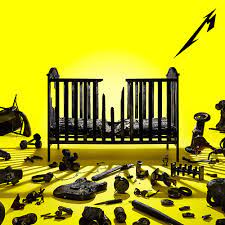 Fair warning: I'm no Metalhead. Of course, I'm open to all genres of music and will never say no to some headbangers, but Metallica? That's metal music for people from my Dad's generation, and I've never had much interest in them or their music- until now. And maybe that's part of the problem, thinking that musicians who are "past their prime" can't produce good music that resonates with me, something Metallica proves unequivocally false with their latest album "72 Seasons."
Officially released on April 14, "72 Seasons" is the eleventh studio album from the heavy metal band, who just came off a seven-year hiatus. The title refers to the first 72 seasons (18 years) of a person's life. James Hetfield, the band's lead writer, wanted to create an album that explores how habits and beliefs, formed in those early years, impact a person for the rest of their life.
In the title track, Hetfield chants: "Slip back, narcotic/Blinded by the ashes of the past," calling back to his long-term struggles with substance abuse. These deeply personal and introspective lyrics are one of my favorite components of the album and help cut through the repetitive riffs and melodies. 
Themes of internal struggle are further explored in the pre-release "Screaming Suicide," an aggressive banger of a song with a catchy guitar riff. I found the song very lyrically interesting, as it's written from the perspective of the suicidal thoughts. The song feels anthemic and empowering and transported me right into the middle of a raging battlefield. "Screaming Suicide" is also one of the many songs that bassist Robert Trujillo has credits on, which is an anomaly in Metallica's discography. Finding avenues to try new things and keep the lyrics fresh is no easy feat for a group over 40 years old, which I think makes this song all the more commendable. 
Another pre-release, though much less well executed in my eyes, is the fast-paced track "Lux Æterna" (Latin for "Eternal Light"). The intense speed resembles older Metallica eras but seems more like a cheap imitation than a continuation of that sound. It's dizzying and overwhelming, and not in a good "speed demon" way. If I had to describe it, I'd say "Lux Æterna" is a whole lot of style and sparkle carelessly thrown on top of a hollow and emotionless song.
The one thing I do like about "Lux Æterna" is that despite all its flaws, sonically it gives the album some diversity. The majority of the album is fast, with similar-sounding drums and guitar riffs and not a ballad in sight. I think Metallica is at a stage in their career where they don't have to target the general public and are just making music they want to hear, but I do wish they made the album a bit more well-rounded and added some different-sounding songs. The lack of distinguishing sounds mushes the whole thing together and makes the awkward bits like "Lux Æterna" stand out even more. 
But when "72 Seasons" is at its best, it reaches some pretty incredible highs. My personal favorite off the album "Crown of Barbed Wire" takes the listener on a soundscape journey through an epic battle. The song is infused with a powerful bassline and each instrument gets its chance to shine solo as well as harmonize with each other. Another stand-out is "Too Far Gone?" which is an emotional high-point of the album. Hetfield's desperate lyrics about feeling trapped in your mind spoke to me and softened the album while simultaneously keeping the edge-infused instrumental. 
The last song on the album is the 11-minute "Inamorata." The song is structurally complex, speeding up and slowing down throughout until it bursts into a powerful guitar solo. Did it need to be that long? Probably not. But in my eyes, the abnormal length turns into something like an epic poem. Yes, it's long and not something I'd listen to daily but a great art piece nonetheless and a perfect album-closer. 
As a whole, "72 Seasons" surprised me, and I love it for that. I was expecting a tired, washed-out version of Metallica, and instead, I got a new, ruminative record that immediately went into my liked albums after only one listen. Though not perfect, it's a beautiful testament to the endurance of classic metal. Sure, it might be considered "old people" music, but I think if you go in with an open mind, you'll find that this "old people" music rocks pretty damn hard. 
Leave a Comment