Political Participation
The League of Women Voters helped students on campus ages 16-18 register and pre-register to vote to begin engaging early in political action.
The League of Women Voters helped students on campus ages 16-18 pre-register and register to vote on April 18. This non-profit organization focuses heavily on projects that promote public participation, such as collaborating with high schools to help students get involved in community politics before they are of voting age.
Michael Henges, an AP U.S. Government teacher, has observed the organization's activities throughout his teaching career at Redondo and notes that he has always "admired" the ideals that the League of Women Voters (LWV) promotes.
"It's important to have a culture of civic engagement at our school. I think a lot of people have strong opinions about political matters, but they're not always aware of how they can get involved, and voting is the first step for many people," Henges said.
Jeanne Hamilton, the chair of Voter Services at the League of Women Voters, says that the LWV of the Beach Cities has worked with Redondo Union and other local high schools for many years, recently partnering with Mira Costa, Leuzinger, and El Camino College. Like Henges, Hamilton recognizes the importance of encouraging civic participation for young populations.
"It's important to establish good habits for voting at a young age. If you don't start young, you may never get around to it. Politicians need to understand that young people vote and expect that their interests are taken into consideration. It isn't healthy for people of my generation to make decisions about your generation without you speaking up," Hamilton said. 
Senior Niko Guerra, who participated in the pre-registration process, also emphasized the importance of ensuring that younger populations are educated on politics and that they are given a forum to express their voices.
"We are the next generation of people who have to make decisions for our government, and I think that it's important for us to [project] all of our opinions and make our voices heard. That's the way to create change, and I think everyone should play a part in our democracy because it affects [us] whether we like it or not," Guerra said. 
According to Henges, the organization sets up this event each year in the fall and spring to provide students with multiple opportunities to register.
"A lot of students can pre-register once they get their [driver] licenses, so often seniors are automatically ready to vote. It's mainly a convenience that we like to offer our students, and a reminder that [registering] is important. If they haven't done it [already], we want them to know that someone is there to help them and to make it happen," Henges said.
Hamilton's position includes working with forums for local races and gathering information for the League's publication, Voter's Edge, which provides background information on candidates. Hamilton joined the League six years ago upon moving to the South Bay.
"I relocated to the South Bay and I was looking for new ways to get involved. I feel that the League's activities are important for democracy and for effective local government, as well as a fun way to get involved in the community," Hamilton said. 
Guerra says that the pre-registration process he went through was "surprisingly uncomplicated," where everything was "very clear," and the booth encouraged him to take part in the registration process.
"I probably would not have registered to vote [on my own] if that booth wasn't there and if I didn't have that option. Without that, it probably would've taken me a while to register and get [ready] to vote," Guerra said. 
Henges remembers Redondo's partnership with the League of Women Voters from as far back as 2013, and notes that it has transitioned from organization members coming into classrooms to simply setting up a booth in the student union. Henges believes that encouraging young populations to vote is both a difficult and valuable challenge, and he applauds the League of Women Voters for their efforts.
"Voting among the youngest demographics has gone up in recent years, but it's still the lowest turnout among any other [age] group. And if young people want the government to be more responsive to their needs, then they have to show that they're more likely to turn out. It's also so important to start off on the right foot, and avoid putting off civic engagement until later," Henges said.
Henges additionally stressed the importance of civic participation in local elections, where individuals have a more "direct" impact on races. Similarly, Guerra noted his own willingness and desire to make an impact on politics on a smaller scale.
"If I pay attention to [local issues], I will further understand what's going on in my community. I want to participate in smaller-scale elections as well as presidential elections," Guerra said.
Guerra recognizes the power of resources like the League of Women Voters and the US Government course curriculum in helping students be more aware of local and national politics. He hopes to further integrate civic engagement into his life moving forward.
"It's so important for our voices to be heard. Everything that happens in the government, from who you vote for to what propositions you vote on, all affect your life and the people around you," Guerra said. 
Leave a Comment
About the Writer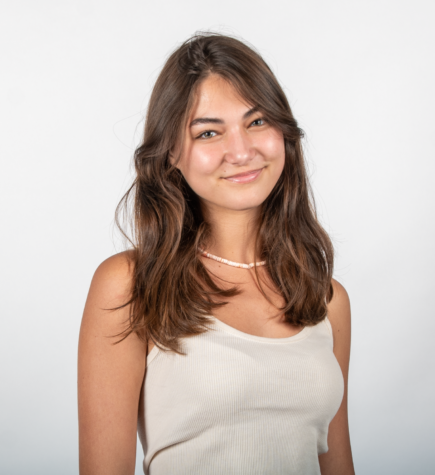 Danielle Bellamy, Staff Writer
Danielle is a senior staff writer and this is her first year on High Tide!! Though busy the past three years, she couldn't be more excited to finally be able to squeeze journalism into her schedule :)...