Opa!
Seniors Dino and Tony Richmond find confidence, community and a connection to their heritage through traditional Greek dancing.
Stressed but filled with "kefi" (Greek word for energy), senior twins Dino and Tony Richmond take the dark stage with their Greek dance group as the upbeat and high-pitched music starts playing and the lights brighten. This was the scene of this year's Folk Dance Festival (FDF), the annual Greek dance competition held every February, where the twins and their dance group compete against other dancers on a national level.
"It's a good gathering place where you get to meet new people, build relationships and show your achievements," Tony said.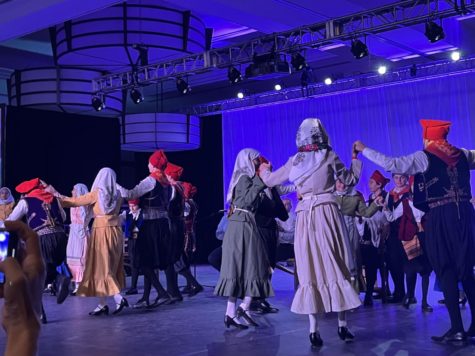 This year, the twins and their Greek dance group from the Assumption of the Blessed Virgin Mary Greek Orthodox Church in Long Beach won second place in their age category at FDF, which was held in Arizona and welcomed around one thousand performers. According to Dino, performing is "fun" for the twins, but that is not the only aspect of their Greek dancing journey, which began when they were four years old.
"We started Greek dancing originally because we saw our mom teaching the older kids when we were really young," Dino said. "What really led me to want to first perform was because I saw all these older kids doing it and I was like, 'Oh my god they look so cool doing it, why can't I do that?'"
Through Greek dancing, a very specific type of folk dancing originally used to honor specific events or people, the twins have become closer to their Greek culture, as their grandmother and grandfather migrated to America from Samos, an island in Greece.
"Being able to relate back to our heritage just makes me proud to be able to honor our grandparents like that," Dino said.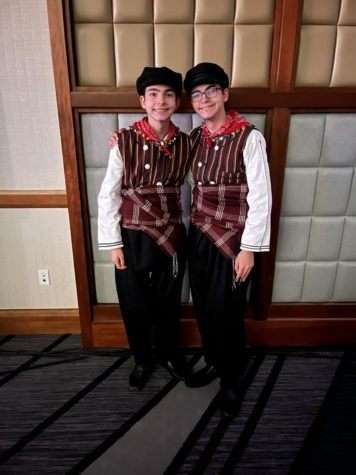 There are different types of Greek dances for every island in Greece due to their different terrains, but since the twins' family is from Samos, their favorite type of Greek dancing is Samian dancing. According to Tony, this is a style with more "bounciness" compared to other types of mainland dancing.
The dancing from Samos is called a Samian suite, and though the twins don't dance this specific suite at FDF, they perform it at Greek festivals in Greece when they visit over summers. They do, however, dance other suites—specific styles and groups of dances from the specific Greek islands—during practices, which are around an eight to 12 hour commitment each week, as well as competitions.
"It's a large ordeal to learn each suite because you have to remember all of the steps," Dino said. "For us, we were self-teaching then having people come in from Greece to help make sure that it looked right and was authentic. After you learn the specific steps for whatever role you're going to play inside of the suite, you end up making your own style on it."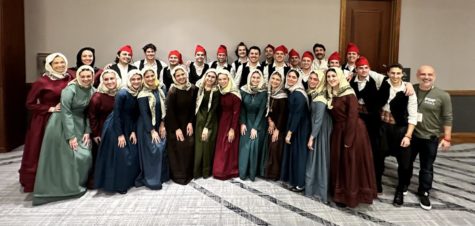 For a tradition that the twins believe is both informal due to them practicing with a community of people they know and love, and formal due to its need to look authentic, according to Dino, Greek dancing has not only brought the twins closer but helped them grow as individuals and dancers.
"Being able to rely on each other when we really need it and being there for each other to boost our confidence really does help with our relationship," Tony said. "[Through Greek dancing], I personally feel like I've grown to be more social. It's also helped me develop a sense of confidence in myself, which I [feel] has been a really important part for me developing my leadership skills."
Greek dance has additionally helped the twins connect with and build understanding with their Greek community while in Greece, and has also helped form relationships with the dancers from their church that will last "forever."
"Our core Greek dance values are faith, dance and fellowship," Tony said. "That means 'faith' in our religious community as we are a Greek Orthodox organization, but also faith in our communities and our trust in one another, 'dance,' as in the purpose of the competition, dancing. We are there to dance not only for our audience but for ourselves. And 'fellowship,' as in building communal ties with not only those we're dancing with and our communities, but other communities as well."
Leave a Comment
About the Contributor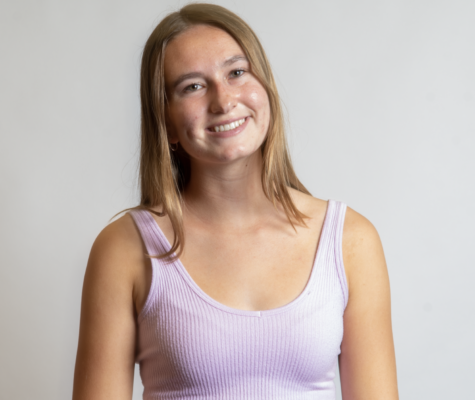 Erika Glass, News Editor
Second year news editor and avid milk drinker.