March was Mad
The ultimate game of March Madness saw senior Aidan Kwan and his team win.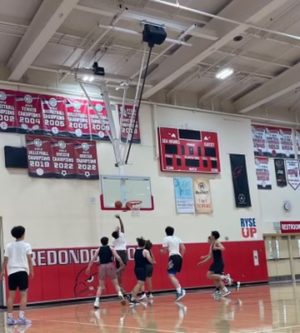 RUHS' March Madness tournament was played in the big and small gyms from March 20 to 24; 16 teams entered but only one came out on top. Only in its second year back since COVID, the tournament showcased seniors and juniors who missed the tournament freshman year from it being canceled for two years straight.
The tournament was run by the ASB; they covered everything from signups to scheduling with the captains, according to senior and March Madness Staff Member Hudson Tingley.
"We started by making announcements to the school, letting everyone know that the event was happening. We put up signups, [ASB] made a group chat with the captains so we could communicate with them about having a meeting, showing the bracket, times and dates of their games," Tingley said.
When the tournament was in full swing it was fairly successful but still a few problems popped up, according to Tingley.
"The first problem we encountered was teams not showing up to games, which wasn't a huge problem, we would just let their opponents advance. The main other problem was teams would get other players that weren't originally a part of the team, but as long as all teams would follow the varsity rules [only one girl and one boy varsity player], this problem didn't really cause anything bad to happen," Tingley said.
The tournament winners consisted of entirely school or club basketball players, having a solid team they won most games by double digits. Their strategy was not to guard each player, but the best player on the opposing team, according to senior Aidan Kwan.
"As a team, we talked about guarding the [other team's] best players and trying to stop them from scoring. We had a lot of offensive weapons (players) so scoring was not a problem for us," Kwan said.
This was his second year of playing in the tournament but it was also Kwan's last, as he will graduate this year, this was Kwan's first time becoming the champion, after coming up just short last year placing second in the tournament, this was his last chance to win it all.
"This is my second time doing March Madness. Last year my team did really well and got all the way to the championship to lose. But this year my former point guard, Brendan Ryan recruited me for his team, for one goal and that was to win," Kwan said.
Only seven people in the school can win the tournament each March, and because it is so hard to win, victory feels even greater, according to Kwan.
"It feels great to win, mainly for the seniors, including me, knowing we all are going to finish high school with a tournament win feels very special to the whole team," Kwan said.
Though there may have been some strong teams out there, certain rules limited teams from being "elite", according to Tingley.
"There needed to be teams of seven with one girl and two maximum varsity basketball players but only one boy and one girl," Tingley said. 
16 teams entered the tournament and staff needed to ensure no extra teams got into the tournament.
"We didn't have to cut any teams out, we set up signups around the school and once we reached the right number of teams we could take them down, however, if one of the teams didn't show up they would be eliminated from the tournament," Tingley said.
Even though Kwan's team won the tournament, a greater opponent rose to the occasion; the team of teachers that beat the champions by four points.
"I did not expect the teachers to be that good, I was worried about Mr. Ellison joining, and when I saw who was on the court, I was nervous because Mr. Steckel was playing and after the game, he shattered the backboard on a dunk. I'm still scared today," Kwan said.
Leave a Comment
About the Contributor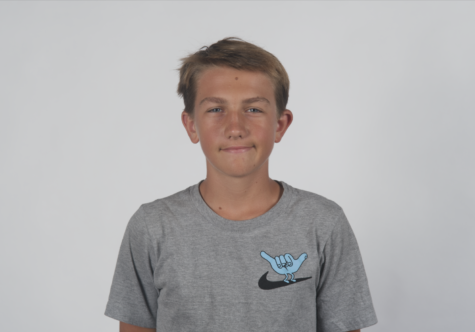 Sam Schwartz, Staff Writer
I love playing and watching sports like baseball and football, my goal in life is to make to the MLB someday. I really love any comedy movie out there. I would also love journalism to be a part in my life...