Listen In
Some wireless headphones are worth the time and money, but others don't sound like a good investment.
We all use bluetooth headphones, some of us use different brands or styles that fit us. The variety of bluetooth headphones on the market offer special features that come with a variety of prices, so which ones are better, more affordable, or worth the high value? Between the Sony WH-1000XM3s, AirPods and Beats Powerbeats Pros, each of them provide different features that benefit or appeal to different types of consumers.    
The Beats Powerbeats Pros, at first glance look like alien technology, their shape is intimidating and odd. My mom owns them and when I tried them on they felt very uncomfortable, certainly not my cup of tea. However, according to Apple's website, these headphones are designed for elite athletes/for working out, so I get why they're shaped differently. Their shape hugs the ear and allows those who do high impact exercise, like running, not to worry about them falling out of the ear mid workout. When I tried them the sound was very good, wasn't too overbearing and canceled out some surrounding noise. I wouldn't pick these myself for their shape but athletes could get a lot out of investing in a pair of Beats.  
AirPods, my best friend. I have the first generation headphones and I don't know how they've survived for this long. AirPods aren't the most amazing headphones, in terms of noise cancellation, but they're less visible so wearing them won't attract too much attention; and they're easy to lug around. 
The downside to AirPods is that they can cause hearing loss, depending on who you listen to them. According to Healthline,  An estimated 17 percent of teens in the United States have some form of noise-induced hearing loss. AirPods cause harm when people listen to them regularly to cancel out sound which causes the volume to go above the recommended decibel.Those who use or want AirPods should be conscious of their potential damage.
AirPods, like most bluetooth headphones are expensive, but have affordable alternatives. A good quality alternative is the JBL Vibe 200TWS. These headphones are $30 on Amazon and customer reviews show that for the price, the headphones have good quality sound. JBLs connect easily to your device and have the same touch feature as AirPods that pause/play songs (according to reviews). I received the Sony WH-1000XM3 headphones as a birthday gift. They're noise canceling, have the touch feature that the other two headphones have, and they're comfortable. It should be noted that good noise canceling headphones are an investment,and buying these types of headphones cheaper is a hit or miss. Noise canceling headphones are beneficial especially to neurodivergent people. Although every neurodivergent  person feels differently, most use noise canceling headphones to block out overwhelming noises/stimuli. Personally, I wear headphones when I'm walking around school due to the fact that I feel anxious in crowded environments and the Sonys are helpful. Navigating through the crowded halls with them makes my anxiety go down a level.
 The best feature is that these headphones require you to download an app, which allows you to change the sound settings, for example I can have them focus on vocals or pronounce the bass. These headphones can be loved by those who like to listen to every detail of a song or who want a heighted music experience. 
Regular wired earbuds aren't bad, they're more affordable and don't need to be charged all the time, but bluetooth headphones are a great investment. For music lovers, who like to pay attention to different aspects of a song without any outside distractions, and those who get anxious in loud places, like myself, the Sony headphones and other bluetooth options are top tier.
Leave a Comment
About the Writer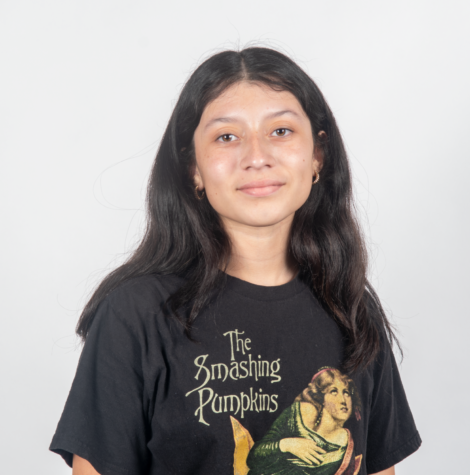 CaraMia Leal, Staff Writer
Hi! I'm a junior and this is my first year in High Tide. Outside of school I enjoy reading, painting, spending time with my cat and re-watching the same sitcoms over and over again.