Sweet Success
Sabor de Salsa performed at a dance competition, taking third place in the small and large group categories.
Sabor de Salsa competed against other dancers at El Segundo High School on March 19, an annual competition that the group partakes in. By preparing for weeks in advance the club was able to win a place on the podium. For many members this was their first time attending the competition as their performances are typically done without judges at rallies and other school events. 
One such member is sophomore Zara Schwar who has been taking part in Sabor de Salsa for a year. According to Schwar, school performances and competing are two different kinds of stress as for school performances stress comes from performers knowing the people who are watching them while for competitions it comes from being watched by judges and competing against other teams.
"It's really fun because I don't really think. I don't really think of every single individual person sitting in the crowd. You just think, it's your time to shine when you're performing. If I ever get stressed, I say to myself, 'everyone just wants you to do good'," Schwar said.
In the end Sabor de Salsa won third place in both the small and large group categories after competing against multiple other opponents. Sophomore Sadie Simmons, who joined Sabor de Salsa last year, was unable to attend the annual competition last year due to her partner being out of town at the time, making this her first time attending the competition. 
"Just going up there and performing and dancing with everyone, I think that's more important to me than whatever place we got. Because at the end of the day, I feel like I will remember more of the fun I had going up there, performing and dancing with my friends than I will [remember] whatever place we got in the competition," Simmons said.
Practicing the dance was split into chunks, starting off by having the dancers learn the solos to audition for them. The team put in extra practice by consistently offering practices on Mondays, Wednesdays, and Saturdays. In addition to this they held extra practices on Tuesday and Thursday, as well, a week before the performance. Throughout these practices they broke the dance routine into sections to learn it. As the day of the competition edged closer the group was just perfecting the final stunts and overall dance. Throughout these rehearsals the group worked on stunts including the towel roll  (where one partner spins the other so it looks like they are unfolding a towel), the cartwheel flip (in which the leader flips the follower in a cartwheel like motion) and the drop cap (where the follower goes on the leaders knee and turns to face the audience.)
"For salsa there's a lot of time commitment and it takes a lot of effort to be at your full potential. But at the same time, we do have a lot of breaks. And we talk a lot and play a lot of games. So it's also really fun. It's more about the excitement of being in a school club than trying to get first place at the competition," Schwar said.
Being the biggest group present at the competition, Sabor de Salsa experienced difficulties adjusting to the smaller stage as it led to less space for the dancers to perform. To adjust to this challenge beforehand, the club made markings on the floor during rehearsals that matched the size of the stage. Initially, there were technical difficulties with the music but it ended up not being a major challenge. Similarly, the competition held this year was the first one junior Katie Martinez attended. Martinez has been in the club for two years now, having joined in her sophomore year.
"I didn't get a chance to go [to the competition] last year, so I didn't know what I was expecting. But I was expecting something more nerve wracking than it would be for school like at a rally. But it was pretty cool to see everyone dance and all the different dancers," Martinez said.
Simmons similarly did not know what to expect at first and did not know of the other styles of dancing that would be featured at the competition. Rather than just salsa dancing those participating in the competition had a wide range of dances from Zamba, an Argentinian folk dance, to tap-dancing. 
"I was definitely very nervous because I did not know what I was walking into. I wasn't sure if it was going to be all salsa dancers our age group or what it was going to be. I definitely expected it would be scarier than it was," Simmons said. "But once I got there I saw that it was a range of age groups and a range of dance styles. And everyone was just having a great time, it put me at ease. It was definitely a lot more diverse than I expected, there were a lot of different styles of dance. After I performed I really enjoyed watching all of the different styles of dance."
By having partners that don't change and including social gatherings between members, Sabor de Salsa is heavily  based on teamwork.
"[Sabor de Salsa] is really fun, it's an open community and it's like a second family for me. [The club is] very open and liberating and it's not too strict," Martinez said. "[The club] kind of is for fun. It gives people a relief from stress. I guess from school or whatever they have. It's a chance to let go of everything and just dance."
Leave a Comment
About the Contributor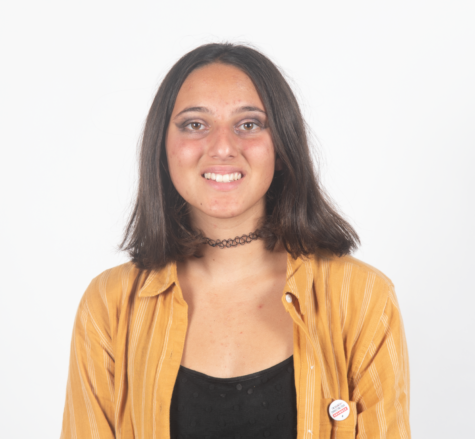 Ariya Anvari, Staff Writer
I love the fabulous wonders of our world that are Disney and coffee. Another thing about me is that I strongly dislike mangoes.