Red Moon Magic
Kali Uchis' 3rd album "Red Moon In Venus" is a beautiful, bilingual blend of love, heartbreak and femininity.
Kali Uchis truly knows how to create a work of art. I am too indecisive to pick a favorite song, so instead of naming every song I'll just say I love all of them from her new album.
Uchis' 3rd album "Red Moon In Venus" released Mar. 3, and it tells of love, desire, divine femininity and heartbreak. Two of her songs, "Moonlight" and "I Wish You Roses" were released before the whole album, and they gave just a taste of what was to come. Since then I was eager to see what else she'd been hiding–and to say the least, Kali Uchis did not disappoint. 
The intro was a beautiful setup for the album. Birds were chirping, it felt like I was in a magical garden. The mellow vibes were set up so perfectly; when Uchis started singing I thought it was still the intro, but it wasn't. There was no pause–the melody just kept going. It is such a seamless transition into the first song of the album "I Wish You Roses."           
Uchis has three songs featuring three different artists—Don Toliver, Omar Apollo and Summer Walker. All three songs are amazing. Toliver and Uchis are in a relationship,and their song "Fantasy" is representative of how in-love they are. "Worth the Wait" featuring Omar Apollo is extremely mellow. It's the type of song that harbors an element of everlasting versatility–you can listen to it anywhere at any time. It's not so upbeat that you feel distracted–it's the right melody for maximum relaxation. Summer Walker brought her perfect voice to "Deserve Me." The duo created a perfect rhythm that made me bob my head as I listened. Walker and Uchis bring different styles to the R&B/Soul genre, but they mesh so well together. 
The first time I heard the album I quickly paused on "Love Between…." The song sounded so familiar;after taking a moment I instantly knew Uchis sampled "Love… Can Be So Wonderful" by The Temprees. I love that song and Uchis tastefully embedded elements of it into her own rendition.  She even changed a lyric to make it modern, instead of the original lyric, "love between a boy and girl…," she sang "love between two humans…." Her voice carried the same soul as The Temprees.
Uchis has a talent for intertwining Spanish into her songs that put them at the level of ultimate perfection. "Moonlight" is a prime example. As I listened to the song, I couldn't stop obsessing over her singing "veo una muñeca cuando miro en el espejo. Kiss, kiss…." She transitions from English to Spanish so seamlessly. It made me instantly love the song. She has three other songs on the album that contain Spanish lyrics, as well. Uchis' Spanish lyrics in her songs add so much life and meaning. They give her music a unique edge that I can't get enough of. 
Kali Uchis took a breakup song in a different direction. It wasn't the typical "you hurt me now I hate you" or a "dwell on the past" type of song. Her song "I Wish You Roses" tells the story of her letting someone go and wishing them the best. She wasn't vengeful or hurt–she knew it was for the best, and she accepted it. The song is so mature and so soothing I could go to sleep listening to it. 
As I approached the final song on the album,I became bummed–I wanted more! But "Happy Now" is a great closing song. She sings of happiness after expressing so many other emotions in the previous songs.Whenever I hear the song, I want to take a stroll outside when the sun is shining. Her lyrics express simple emotions in a unique and profound way. As a lyricist, Uchis is immensely talented, a musical genius! 
"Red Moon in Venus" is evidence that Uchis will just keep getting better and better. I will be impatiently waiting for Kali Uchis to release new music. Her music can be enjoyed by everyone and it will always appear on my playlists. I will be replaying "Moonlight," "Blue," "Love Between…" and "All Mine" till the dawn of time.
Leave a Comment
About the Contributor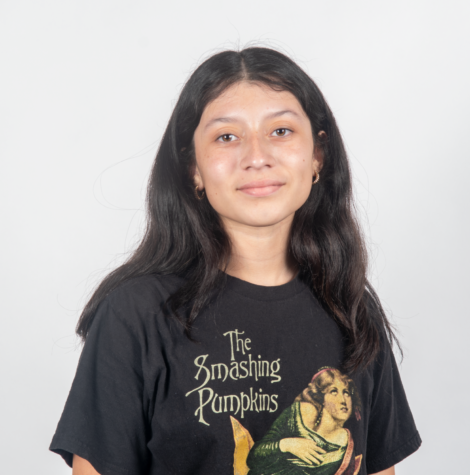 CaraMia Leal, Staff Writer
Hi! I'm a junior and this is my first year in High Tide. Outside of school I enjoy reading, painting, spending time with my cat and re-watching the same sitcoms over and over again.