Get into the Swing
RUHS golf held their first annual "Get into the Swing" fundraiser on Mar. 4.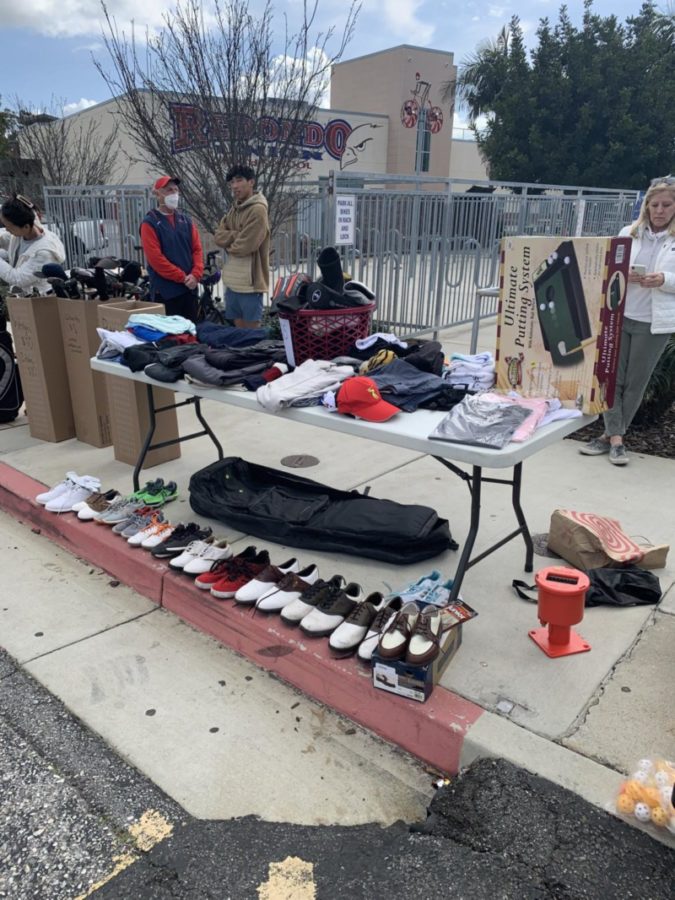 On Mar. 4, the RUHS golf team held their first "Get into the Swing" joint parking lot sale. Students and families donated and sold  numerous golfing items, and raffled off a gift basket with a value of $650. "Get into the Swing" was the brainchild of Kristi Mickler, mother of student golfer Logan Mickler, who wanted to assist her son's underfunded golf team.
"Golf isn't really a spectator sport, so as parents we had to be creative when it came to fundraising," Ms. Mickler said. "I suggested we do a parking lot sale, where we gather up equipment and clothing and have a community event to pass on items to the next generation of golfers."
According to golf coach John Burke, since the team receives "no funds" from the school, they rely on fundraisers to help pay for the cost of equipment, tournaments, awards and scholarships, for example. Burke notes that this year, the golf team has received an exceedingly high amount of direct donations, all coming from a group of very involved parents. 
"I've never had a group of more supportive parents than that we have this year," Burke said. "One of the parents already held an online fundraising event, and she single-handedly raised enough money for 30 golf bags. And since the team is so good this year and we are going to all these matches, we need the money."
The "Get into the Swing" parking lot sale was entirely funded by RUHS families, who came together to sell their unused golf equipment. Many passed along their materials to allow younger golfers to advance their passion for the sport. One such young golfer is freshman Daniel Azouz, who attended the event to expand his growing collection of golf supplies.
"I bought two new clubs: a new putter and a new wedge," Azouz said. "I thought the event was going to be a lot smaller, but they put together a great selection with a lot of cool items. I think there was something for everyone."
According to Burke, the golf team might be holding another fundraiser soon to try to sell more of their leftover equipment from the first event. And since the fundraiser was "quite successful," as Ms. Mickler noted, the golf team is planning to keep the sale as an annual event. The yearly fundraiser will give the golf team a stable source of funding, which will allow the golf team to continue playing at matches across the South Bay. 
"This will probably be part of our yearly routine," said Burke. "We've never done anything like this before, so I'm both nervous and excited about the future. And it's all thanks to [Mickler], since she organized the whole event. Last year, we couldn't do much physical fundraising because of COVID, but she helped us get back to that." 
Through the efforts of the volunteers, the "sale is likely to bring in over $7000 once all items have been sold in consignment," according to Ms. Mickler. There was no original profit goal, but rather the team set goals such as selling off the donations with the highest price value.  
"We sold three complete golf sets, which is a big deal," said Ms. Mickler. "Next time, I'm thinking about possibly choosing a different location, somewhere where we can [expand our reach]. But overall, I think everything was really successful. We got the word out to the local golf community, and a lot of people came down here who are just as passionate about golf as we are." 
Leave a Comment