Easy As Pi
The Math Tutoring Club served pie to students to celebrate Pi Day.
With an arrangement of homemade and store-bought pies, the Math Tutoring Club commemorated Pi Day on Mar. 16 by serving the treat to club members and anyone else who wanted to participate.
President senior Theo Danial wanted to continue the annual tradition of recognizing the holiday that "represents celebrating difficult tasks and doing well in the math community."
"We're the only math-related club on campus, so I felt it was our duty to pay some tribute to Pi Day," Danial said.
Danial made chocolate chip walnut pies, while Vice President senior Malia Merager bought apple and cherry pies. They cut each pie into 12 pieces to serve to those who came. Junior Natalie Goldman, who attended the event, said the chocolate chip walnut pie was "delicious" and believes the event was overall "exciting."
"It was fun to be able to celebrate Pi Day while eating pie," Goldman said. "I think it's a great way to make math seem a little less daunting."
According to Danial, there were 40-50 students who attended, and publicizing the event in the school emails helped boost attendance. Although this was the first time the club held the event, Danial said it went "smoother than expected" with the help of other board members – it was simply a matter of bringing pie to school and serving it. 
"I know that high schoolers get excited when it comes to free food, so I was expecting there to be a lot of chaos and a mess. My other board members had the great idea of [using] a sign up sheet [to call names], and it was much more calm than I expected," Danial said. 
The event not only commemorated Pi Day, but it also directed more people to the club, encouraging them to explore and get help with math.
"I was delighted to see that people were actually coming not only for the pie, but a lot of them were legitimately doing math," Danial said. "It was a really pleasant surprise that people were excited to show up."
Leave a Comment
About the Contributor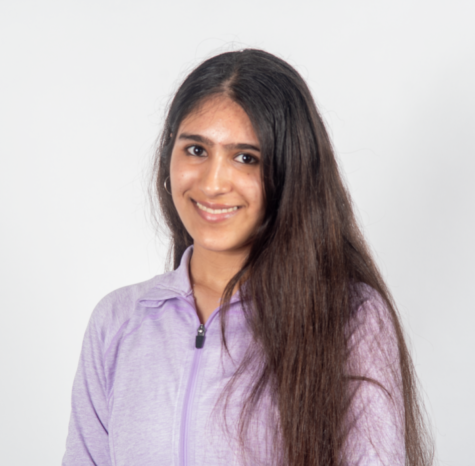 Simra Zargar, Writing Editor
Hi, I'm Simra and this is my third year on staff. I'm a writing editor.