Crazy for Coke
Despite its unique concept, "Cocaine Bear" successfully entertains audiences with its horror and comedy elements
When I first heard about "Cocaine Bear," I was quite interested in the concept since I occasionally enjoy watching thriller and horror movies. To cut to the chase, I was not disappointed. The comedic thrill of a bear that goes crazy on cocaine is not something I expected, but I'm glad I watched it.
"Cocaine Bear," directed by Elizabeth Banks, is an American comedy and horror film that was released on Feb. 24 by Universal Pictures. It's inspired by the true story of a 175 pound American black bear that ingested cocaine which fell out of an airplane over Chattahoochee-Oconee National Forest, Georgia, on Sept. 11, 1985. Although the original bear died due to an overdose, the movie takes this concept in its own creative way by pretending the bear still lived and became addicted to cocaine. The movie goes through the plot of the cocaine being dropped into the forest, where you meet a variety of characters that interact with the addicted bear and try to run and hide as the bear goes insane with a thirst for cocaine. This interesting concept is met with comedic and horrific depictions of the event, elevated with well-timed punchlines and frightening jump scares.
The plot aside, the characters were all well-played and the bear was extremely funny. A character I really enjoyed was Liz, who was portrayed by Margo Martindale. She's a park ranger who slowly unfolds the whole situation and her character is absolutely hilarious thanks to Martindale's acting.
The CGI in the movie, although not too realistic, added to the comedic aspects of the movie through the bear's facial expressions and the dead bodies of the characters. Despite the movie having a rather high number of perspectives and characters, each one was played well enough that the plot flowed nicely and the movie kept your attention the whole time.
One of my favorite scenes in "Cocaine Bear" is the when the bear falls asleep on a character named Eddie. Surrounded by his fellow drug dealer friend Daveed, a teenager named Stache and a cop named Bob, the reactions were priceless. When Daveed went to check if the bear was dead, a bag of cocaine fell out of his pocket and awakened the bear. It really shows the dimension of his character because even though he was just a drug dealer, he did care about his friend. 
Overall, each role contributed enough to the plot that the movie didn't feel uneven or boring. I didn't get lost in the names of the characters, and everything managed to connect nicely and add to the horrific aspects of the movie. To put it simply, no one is left out, not even the character's pet dog that can't play fetch. 
Although the movie earned an average rating of 6.1 out of 10 on Rotten Tomatoes, I personally believe that it deserved a higher rating; it manages to deliver a funny and entertaining horror movie that's well acted and well directed. I find it especially creative how Banks manages to cover such a gruesome topic with comical characters and an absorbing plot. Gore-y yet laughable, I personally believe that if you enjoy both horror and comedy films, "Cocaine Bear" is a good mix of punch lines and jumpscares to give you a good worth of your 95 minutes.
Leave a Comment
About the Contributor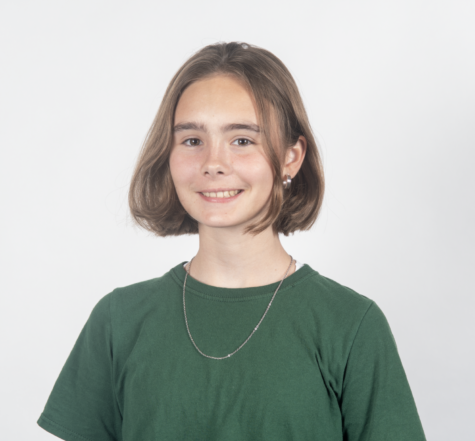 Charlene Elam, Staff Writer
Hey! I'm a freshmen at RUHS and I enjoy art & videogames. I'm a middle child and I have a pet cat (Callie) and a pet rabbit (Jasmine).