Changing the game
Increased scoring in the NBA over the past decade is largely due to skewed refereeing and changes in shot selection.
The 2022-2023 National Basketball Association (NBA) season has seen its highest scoring averages since 1970. Over 50 years ago in the 1970 NBA season, Kareem Abdul Jabbar was playing his first NBA season and Jerry West—whose silhouette is used as the NBA logo—led the league in scoring in a 14-team league without a three-point line. Today, the NBA's scoring inflation promotes a game full of skill as opposed to physicality, which helps the league as a whole.
Points are being scored at a historic pace this year as teams, regardless of who is winning, and teams are averaging 114.4 points per game according to Basketball Reference.
One of the reasons for this increase in scoring can be attributed to an overall increase in field goals attempted. As of March 6, 2023, NBA teams are shooting the ball 88.1 times per game. 10 years ago, NBA teams shot the ball 82 times per game, and scored 98.1 points per game. Since teams are shooting the ball more times every game, naturally they will score more. Seeing more shots fly is good for television rating as it allows the NBA to display the accuracy and touch their best shooters possess. 
But the NBA's scoring inflation lies deeper than just statistics. Some players believe that the game has strayed away from physicality on defense, as referees are calling more defensive fouls. As an eight-time all star and four-time all-defensive team member, basketball player Paul George is known for his scoring and his elite defense. He recently said on a podcast when asked about defense in today's NBA: "It's killing the game… We can't defend as well as we used to. [Everything's] a foul now. You could be physical, aggressive [before.] You can't do that now. The offense has the advantage now." 
Since officiating has favored offenses, it is more difficult to play defense without fouling, making it easier for offenses to score. George's point has merit. In the 2012–2013 season, teams committed, on average, 19.8 fouls per game and shot 22.2 free throws per game (which are rewarded after a foul). This year's fouls have increased and teams are now shooting 23.7 free throws per game. 
As a basketball fan and frequent watcher, I have to agree with George. More and more, referees are penalizing legal, good defense by calling fouls. Not only does this allow the offense to shoot more free throws, but it also forces players to be less aggressive on defense, which makes it easier to score. If a player has to stand five feet away from the offense as opposed to two feet, it puts less pressure on the offensive player, making it easier for them to shoot an open shot and score.
Having referees skew offensively isn't a bad idea for the NBA. It is easy to argue that having more scoring makes for a better end-product for fans and for television. The more the NBA promotes high-flying, high-scoring games that showcase the incredible skills and athleticism that its players possess, the more entertaining the game becomes, which ultimately means more money for the NBA. In 2002, teams scored 95.1 points per game on average. That same year, the NBA signed a television deal worth about 765 million dollars per year. In contrast, in 2016, teams averaged 105.6 points per game and the NBA negotiated a television deal worth 2.66 billion dollars annually. More points means more money for both the league and its players. 
Another reason the NBA's scoring has increased is due to the increased reliance on the three point shot. A decade ago, teams only took about 24 percent of their shots from three-point land and now, that number has risen to nearly 39 percent. In 2012-2013, Steph Curry–leader of the league's three-point revolution–attempted a league-high of 7.7 threes per game, this year he takes 11.5 threes per game. Centers have also caught on with the trend. Centers are known for being tall and using their height to shoot close, high percentage shots. 10 years ago the league's highest-scoring center shot two three-pointers that year, this year as of March 14 he's taken 328. Centers that are a threat to shoot from deep and from the post cause headaches for defenders, as they force the defender to follow their assignment out into the open court. 
With centers shooting more shots away from the basket, the NBA loses some of its more physical matchups in the paint that made former players such as Hakeem Olajuwon and Shaquille O'Neal a force. By losing this beloved element, the NBA relies on finesse as opposed to force to drive up ratings.  
As an avid fan of defense and physical basketball matchups the league's scoring rise isn't the most appetizing but it has done undeniable wonders for the league as business. With offensively-skewed officiating and increased number of threes per game, the NBA is scoring like never before.
Leave a Comment
About the Writer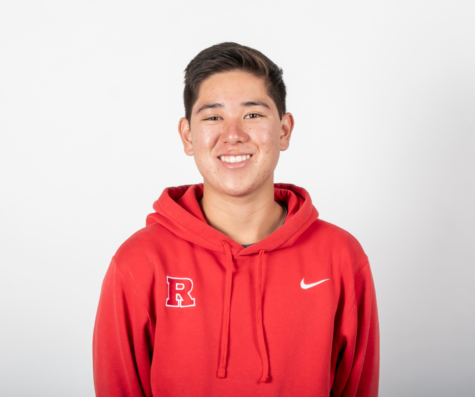 Aidan Tseng, Staff Writer
Hi I'm Aidan, a first year member and staff writer. In my free time you can find me destroying people at Connect 4, or impatiently waiting for the new season of Cobra Kai. : )