Satisfactory Spin-Off
"That 90s Show," a new Netflix series, was entertaining but did not live up to the standards of its predecessor, "That 70s Show."
When Micheal Kelso appeared on screen and exclaimed his iconic line, "BURNNNNN," I screamed in excitement. 
I first watched "That 70s Show" a few years ago, and I've watched it probably 100 times since. I always wondered what the characters' lives would have been like in the new decades and if Donna and Eric, the main couple, lasted and had kids. And after 17 years since the show ended, fans like me finally got to see what happened to the characters two decades later.
"That 90s Show," a new Netflix spin-off series of "That 70s Show," was released on Jan. 19 and it follows Leia Foreman, daughter of Eric Foreman, and her summer living with her grandparents in Point Place, Wisconsin. Leia gains a new group of friends, Jay Kelso, Gwen, Nikki, Ozzie and Nate, and starts to rebel against her "nerdy" and "innocent" reputation.
"That 70s Show" is one of my favorite comedy series, so my expectations were high. I was expecting elements such as The Circle, where the friends would sit in a circle and smoke weed and giggle at their weird thoughts, the funny lines and the 70s references. 
"That 90s Show," however, was halfway there. I liked the original cast's cameos and their kids' presence, but it was missing the original series' feeling of authenticity. "That 70s Show" felt like it truly represented the 70s era through the colors, clothing and setting, but "That 90s Show" felt too modern. I didn't get the same feeling as I do when I watch "Friends"- the sense that the show takes place 30 years ago. I wasn't getting many 90s references; it felt too influenced by today's interpretation of the 1990s era.  Don't get me wrong, I enjoyed the show, but I will always love the original and its accurate portrayal of the era.
Although there were elements I would change about it, "That 90s Show" was overall entertaining. I enjoyed the storyline, the character development and the characters' background stories. It had a cute romance story and a last-minute plot twist that kept me engaged. I enjoyed watching Leia grow from nerdy- always talking about the debate club- to rebellious, sneaking out to go to raves and joining in on The Circle. I also liked the sentimental aspect of Gwen's brother, Nate, grasping on to whatever his dad, who wasn't always around, sent him. I loved the way the creators made Jackie and Kelso- the on-and-off couple from the original series- parents to Jay Kelso. The connection to the original show's main characters was perfect. 
Two of "That 70s Show" main characters, Kitty and Red Foreman, were just as entertaining in the new series as the previous. They lit up the screen. Seeing Kitty's signature hair and hearing her fun laugh was amazing. Debra Jo Rupp portrayed her character so well, even after a 17-year break. Kurtwood Smith also maintained his character, Red's, tough personality, always threatening to put his foot up others' "you know what." The two actors brought the same energy they did 25 years prior. 
I really enjoy looking at the costumes in shows and movies: do they match the theme? Do they match the character's personality and hold a deeper significance? For this show, I was looking to see if the costumes matched the decade. They didn't. Today, there are clothing trends circulating that are "90s aesthetic," and the characters' costumes portrayed this 2023 version of the 90s. I am a big "Friends" fan and I loved their outfits; in fact, I have a whole Pinterest board dedicated to their costumes.  I wish the costume designers for "That 90s Show" would have taken inspiration from famous 90s shows or trends, rather than the modern "trendy" version of the 90s look. The outfits in the show weren't authentic enough to the era.
It has been announced that "That 90s Show" will come back for a second season, and I'm looking forward to it. While I have mixed opinions on the first season of the show, I am hopeful that it will get better. The show didn't live up to "That 70s Show," but overall I enjoyed watching. With its humor, good acting and final plot twist, I'm eager to see what happens next.
Leave a Comment
About the Contributor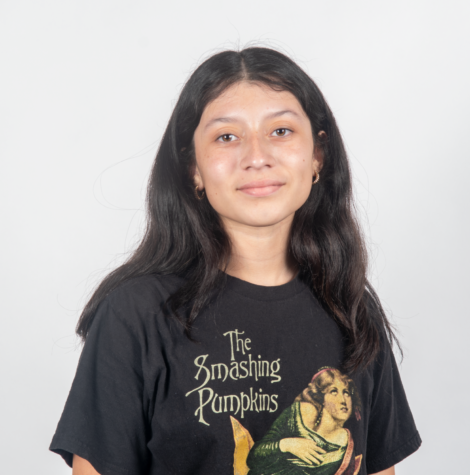 CaraMia Leal, Staff Writer
Hi! I'm a junior and this is my first year in High Tide. Outside of school I enjoy reading, painting, spending time with my cat and re-watching the same sitcoms over and over again.