Not Anyone's Place
Lack of chemistry and a decent plot aren't the only factors that make the Netflix rom-com "Your Place or Mine" starring, Reese Witherspoon and Ashton Kutcher, unenjoyable to watch.
With decades of experience making hit romantic comedies, you'd expect Netflix's new movie starring Reese Witherspoon and Ashton Kutcher to feel like a dream. Too bad it was smothered by disappointment. 
The movie, "Your Place or Mine," is a flat, stale attempt at a good rom-com. No question mark on that title. No need, the movie doesn't get anywhere anyway. 
Witherspoon and Kutcher play Debbie and Peter, longtime best friends who shared one night of passion 20 years ago before settling into the friend zone. They talk to each other regularly via FaceTime and are open with each other about practically everything. So why aren't they together as a couple? Well, she's uptight and he's an irresponsible jerk. On top of that, the lack of chemistry between the two sets them back, as made clear by their awkward interaction on the red carpet for the movie's premiere. 
The plot is strange yet simple. Debbie is headed to New York to reunite with her best friend and for a week-long literacy art seminar. However, plans change (and they change a lot in this movie): Debbie almost cancels her trip because her 13-year-old son's babysitter calls off last minute, and Peter, who loves her, decides to fly out to LA to watch her son. He stays at her place, she stays at his. During that time, Peter gets to meet her friends including a Buddhist neighbor Zen (Steve Zahn) and a fellow parent at school (Tig Notaro), while she gets to become gal-pals with one of his exes (Zoe Chao). 
These parallel storylines were not even remotely interesting. When I saw that Netflix was adding a rom-com, I did not expect that the two main characters would never see each other, let alone fall in love. The whole movie, which is almost two hours long, has too many backstories and distractions from the main plot. I don't want to watch Debbie conversing with Peter's ex and Peter playing dad for her well-adjusted teen. I want to watch two people predictably fall in love with cheesy jokes sprinkled in. C'mon, it's a rom-com for a reason. 
On the verge of giving this movie up, a book publisher (Jesse Williams) walks into the picture, immediately taking interest in Debbie. Plot twist, they actually have real, flesh-and-blood chemistry which gives us something to root for. Even Peter meets someone, a woman he hasn't seen in years (Shiri Appleby), who also makes the movie come alive. But it doesn't last.
As for the comedy aspect, the opening flashback to Debbie and Peter's hookup in 2003 was the only funny part. Director Aline Brosh McKenna, known for directing "The Devil Wears Prada," points out the 2003 signifiers: flat-ironed hair, trucker hats, and plenty of layered shirts enough to make stripping awkward. 
While the final minutes do satisfy my want for a little romance, the remaining 105 minutes was a complete waste of my time. With a talented cast, I expected "Your Place or Mine" to display Witherspoon and Kutcher's commitment to a good delivery; instead, it's an embarrassment for their rom-com career. 
Leave a Comment
About the Contributor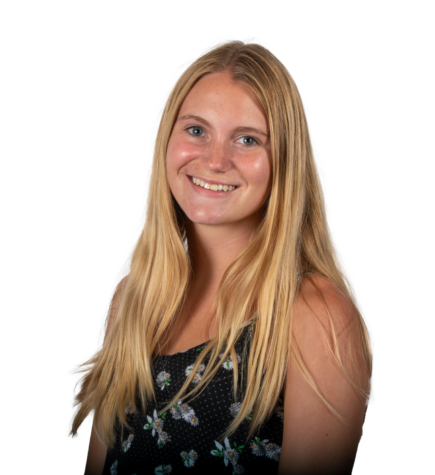 Sydney Lamich, Entertainment Editor
Hey, it's Sydney (not Sabrina). This is my fourth year on staff as an Entertainment Editor. If I'm not at school, you can find me at your mom's house.