Glorious
Sam Smith's fourth studio album beautifully explores themes of acceptance, self-love, and empowerment.
With a powerful voice that garnered four Grammys, Sam Smith could've stayed in the lane they know best—beautifully sung songs revolving around heartbreak and desperation in a pop-R&B way. But after three albums of piled-up heartbreak, Smith was ready for a crazy night out. 
Smith's fourth album, "Gloria," is a wild, late-night adventure with some risks that also get you home safely. It's a musical rebirth for Smith that strengthens them and leaves most of the heartbreak back in the past. With ballads, dancefloor anthems and a risky single that was hinted at before the release, "Gloria" is a glorious story of Smith's longing for the future, and it's full of surprises. 
Smith focuses more on lyrics and mood setting in "Gloria" instead of the powerhouse vocals that we are used to. Of course, the heartache still lingers, but it's with less insecurity and more self-love, as if the songs are coming from a person who is happy in their own skin. 
The album opens with "Love Me More," a self-care song that places listeners in what is seemingly a John Legend tune. The empowering yet dark lyrics—"I used to cry myself to sleep"—along with a catchy melody create a memorable opener and preview of Smith's story. From there on, the album shifts into gear with three R&B pieces that swing from "Lose You," a low-key disco track to the alluring "Perfect," a duet with singer Jessie Reyez that hints at one of the album's themes: "I'm not perfect, but I'm worth it."
The groovy vibe abruptly ceases as "Unholy," Smith's passionate duet with Kim Petras, thunders in the door. A pulsating dance track focusing on a family man's journey in unsafe sex, "Unholy" has a roaring rhythm and chorus that sounds like a sea chant. It's a lustful demand for a distraction, and Smith makes that clear. 
How do you follow that sexually loaded song? With "How to Cry" of course, an acoustic ballad that sets the tone for the rest of the album. Next is "Six Shots," another slow jam that is seductive beyond Smith's forte. With a spine-tingling guitar melody, it definitely makes listeners feel like they're consumed in the party of it all. The album picks up again with an electro single "Gimme" and climaxes with a captivating disco anthem, "I'm Not Here to Make Friends," one of my favorite songs on the album. The catchy tune has a chic rhythm and sparkling strings along with sassy lyrics as Smith states, "I'm not here to make friends/ I need a lover." It's a collaboration with Calvin Harris and Reyez, which I didn't know I needed until now. 
Soon enough, the title track rolls in and it's not even close to what you imagine it to be. It's a vocal-only track, recorded with a full choir where Smith's vocals come soaring in one minute into the song. It's a surprising addition, with monsters and demons consuming the first verse and empowerment consuming the second. 
Although it seems like it's the final track of the album, "Gloria" closes with "We Love Who We Love," a gentle duet with Ed Sheeran that leaves the listener thinking about life itself and who we are as people. Smith and Sheeran sing, "So let go/ You don't know better than your heart knows/ We love who we love," revealing Smith's final message of acceptance, coming of age and love to their listeners. 
Musically, "Gloria" is a far-reaching album and one of Smith's best pieces. The combination of slow ballads, electric bops and pop R&B make Smith's confessions, thoughts and craving for love even more profound. While I do love his debut album, "In The Lonely Hour," which captivates my need for a good cry, "Gloria" is an album that will heal all of those insecurities about ourselves rather than putting a band-aid on them.
Leave a Comment
About the Contributor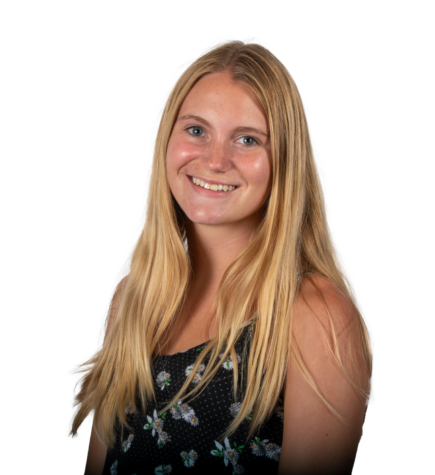 Sydney Lamich, Entertainment Editor
Hey, it's Sydney (not Sabrina). This is my fourth year on staff as an Entertainment Editor. If I'm not at school, you can find me at your mom's house.