Design On The Side
Art teacher Michele Andrade created architectural drawings as a side business.
Whether art teacher Michele Andrade is in the art classroom teaching students, or at home, creating architectural drawings for her side business, everything she does is by design.
Inspired by becoming a mother ten years ago, Andrade formerly sold nursery art and name signs on Etsy. However, as Andrade's kids grew up and her lifestyle changed, so did the art she created. Indulging in more architectural art, Andrade's new art business blossomed three years ago when she gifted a drawing of her childhood home to her parents after they decided to move. According to Andrade, "[the business] just blew up from there."
Instead of taking inspiration from specific artists, Andrade focuses on her own unique style and emphasizes the elements of texture and value in art.
"Architecture is an easy drawing to do because it's very straightforward and follows a set of principles, like perspective. It's something that I enjoy doing [because] I like drawing with nice, neat lines. I like to have precision in my work," Andrade said.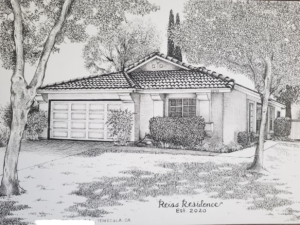 According to Andrade, this style of art not only compliments her artistic preferences, but also her life. Andrade's architectural art allows her to balance home and work life in contrast to painting, which can be difficult, especially when working around children.
"Working with pen only is really easy to do at home. When I have kids running around, I can kind of set it off to the side and come back to it. And most of my work is in pen, so it's not very messy," Andrade said.
Andrade has an additional side business shared with fellow art teacher Amanda Roth, called Art Teacher Fusion, for which they make and supply fellow teachers with art lessons. While Andrade typically creates her art for clients interested by "word of mouth" and Etsy, she also has the perfect housewarming present for friends that have recently moved, such as Roth.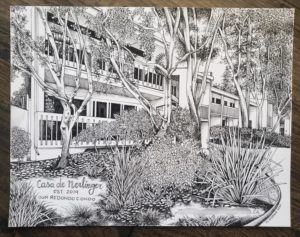 "I was surprised because I didn't expect [the gift]," Roth said. "But I was very thankful because it was absolutely beautiful, and it was something that I could hang up in my house. It makes a really great memory, as well."
Through the artwork itself, Andrade also receives free advertisement, as her artwork is often displayed in clients' residences, sparking attention and interest from others.
"A lot of people have asked me about [Andrade's artwork]. One of my former neighbors before I moved into my new place reached out to follow up after seeing the drawing. Having her artwork up in my house is a good way to advertise the business, so it worked out really well," Roth said.
While the average 8×10 drawing takes Andrade anywhere from eight to ten hours to complete, the detail and precision that is put into her artwork never goes unnoticed by clients, who, according to Andrade, are elated after viewing the final project in their new home.
Andrade enjoyed her side business, but ultimately decided on prioritizing teaching art after securing her position at RUHS in 2016, taking temporary breaks from selling the architectural art. Although Andrade only occasionally takes commissions now, she still cherishes the reactions she receives to her art.
"The best feeling is when you get to hand the work over to your client or to the person who's purchasing from you and just seeing their happiness and their joy. That makes it all worth it," Andrade said.
Leave a Comment
About the Contributor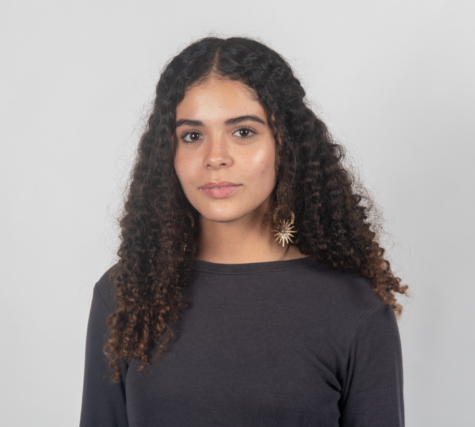 Yasmeen Ford, Staff Writer
Hi, I'm Yasmeen, I'm a sophmore and this is my first year in Journalism. In my free time I like to read, listen to music, paint and cook various types of cuisines. I'm looking forward to shedding some...