Dance, Dance, Dance!
Sabor de Salsa delivered an "exhilarating" performance at USC on Friday, Feb. 3.
Hearing the crowd roar with life, the dancers were filled with energy that lit up the stage. Moving as one, the Sabor de Salsa performers danced together to Latin music. The Sabor de Salsa Club performed on Friday, Feb. 3, for the first time at the University of Southern California (USC). The performance was open to everyone and most of the crowd consisted of USC students. 
The First Friday of every month, USC's Salsa Club "Break on 2" hosts a salsa night. During this night, they teach salsa and bachata lessons with social dancing afterward. 
Presidents of Sabor de Salsa, senior Marco Foster and senior Samarah Nuques, led their team of twelve in performing. Foster, who has been in the club since his freshman year, felt "a mix of being excited and nervous because this is the first time [they] went to the university."  
Foster would host practices everyday for a week prior to the performance. They would go over the routine they were performing for in two hour practices. Perfecting the routine wasn't easy and they had some challenges along the way. 
"One challenge was getting people who didn't know the routine as well to catch up because there are some people who hadn't performed it in a long time. So we had to go more slowly through it," Foster said. 
While the team had some challenges, the practices paid off in the end as successes followed. Stunts, a movement involving the follower being picked up and thrown in a specific way or spun around in the air, were also something the team was working on. Some stunts can be more difficult to accomplish than other, but according to Foster, "for most people, they're easily doable."    
"I think definitely the stunts are an eye catcher. When we did them, I just saw people's jaws drop and it was exhilarating. It got a lot of cheers. [The crowd wasn't] expecting us to do those sorts of stunts and lifts, so we were able to impress them and they had good reactions," Foster said. 
According to Foster, the team could have improved on the timing in the middle sections where the members were apart from their dance partners. He feels it would have been a good area to "review more carefully," but Foster believes they were ultimately ready to perform. 
"[I'm most proud of] their commitment because it's hard for a lot of people to come every single day after school and practice for this event," Foster said. "So to the people who were able to do that and showed up for at least most of them, I admire that kind of commitment."
 To motivate the team and as a bonding moment, the club sat and talked together, and listened to music on Friday. Before the event, Foster had a pep talk with his teammates before their performance.  
"Before the event we had a good talk and [I said] we got this, we're gonna do great [and] if you fall, then just get back up." 
Sophomore Sadie Simmons has been a part of the club since the beginning of her freshman year and was one of the twelve members who performed. 
"I think our team did really well. We had a really great audience at USC and they were all super into it because a lot of them were dancers. We really pulled it together, [ and] did a good job," Simmons said. 
She felt that the presidents motivated her as well as the rest of the team. According to Simmons, they taught the team well and the club is "not only great for learning how to dance, but [also] truly a community." 
"They're always on top of teaching us [and] asking questions about who needs help and what we need to work on to get better," Simmons said. "They've been great teachers and they're always really willing to put the time in to help you so that everyone is ready."
According to Simmons, she felt ready to perform and felt the performance went smoothly. During practices, they were working on hitting their stunts in sync with each other and with the right music cue. 
"I think our success was that we [were] all in sync and we all hit the music cues," Simmons said. "We perform really well together as a group. I'm most proud that we all went out there and did our best in front of all these people. We were all shining [and] smiling." 
Leave a Comment
About the Contributor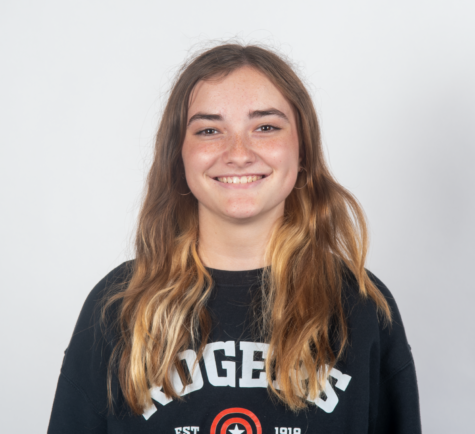 Scarlett Kindt, Staff Writer
I am very excited to be on staff for my first time this year! I enjoy watching Marvel and Stars Wars. Also, I love to do digital drawing and am a very creative person!