What's at this Center?
Rian Johnson's murder mystery sequel, "Glass Onion: A Knives Out Mystery," combines the intricate plot and jaw-dropping twists of the original with comedy and enticing reveals that proves a worthy addition to the franchise.
The layers of this onion, instead of making your eyes water, will make your jaw drop.
Rian Johnson's sequel titled "Glass Onion: A Knives Out Mystery" proves worthy to compete with the extremely popular "Knives Out," despite the immense pressure to succeed. "Knives Out," an intricate murder mystery plot filled with familiar actresses and actors, shook the world in 2019. The sequel includes none of those actors/actresses except one and took on a completely new plot line. Personally, I didn't think Johnson could top the original, yet he manages to tie together the smallest of details to create a complex and satisfying murder mystery.
The film begins amidst the 2020 COVID pandemic as four characters receive boxes, each including an invitation signed "Love, Miles." Known as "the disruptors," the group consists of the troubled politician Claire Debella (Kathryn Hahn), the incredible scientific genius Lionel Toussaint (Leslie Odom Jr.), Birdie Jay (Kate Hudson), an idiotic sweatpant line owner and Duke Cody (Dave Bautista), a struggling Twitch streamer. Otherwise opposite personalities, everyone connects to one person: Miles Bron (Edward Norton). After making millions from a tech company called Alpha, Miles has his "disruptors" tied to his hip for money. In each box, a note is hidden by puzzles entailing a reunion on his Greek private island, where there will be a murder mystery game in which Miles "dies." It was a seemingly lighthearted reunion where not much could go wrong, but when renowned detective Benoit Blanc (Daniel Craig) also receives a box, a foreshadowing of a real death follows. 
In contrast to the serious atmosphere of "Knives Out,", the sequel is much more comedic, which I actually preferred. While I love a good seat-gripping mystery, it's also nice to see a balance. While "Glass Onion" has its serious and emotional parts, the comedic relief (mostly brought by Blanc) is what made it especially entertaining. Besides the humor, the film would've stayed in the shadow of the first movie due to the shallow plot line. Yet, with Craig's over-the-top performance of Benoit Blanc, Hudson's perfect execution of Birdie Jay's air-headed personality, as well as all the small jokes in between the film felt more effective and unique. 
As the group travels to the private island, Andi Brand (Janelle Monae), Bron's former business partner, unexpectedly attends the reunion, even after being cut off from the million-dollar Alpha company by Bron. As the tension builds upon her arrival, it becomes clear that the weekend will not go quite as Miles had planned. After a sudden and unexpected death, the screen exudes panic as intricate camera angles depict how each person reacts. But then, the screen flashes back to days before the reunion to Benoit Blanc's apartment. Johnson takes the risk to begin unfolding the truth with still an hour left to watch— a risk worth taking.
The most impressive part of Johnson's films is the plotlines, where he manages to create a storyline that leaves viewers with multiple "Ah ha!" moments. While this film was unpacked earlier than the previous one, in no way was it delivered worse. Every detail put into the scene that may look unnecessary or unimportant was used to wrap up the plot. Not one part of the ending was questionable because, in retrospect, all the clues were right in front of our faces. In both movies, Johnson uses the rewind effect to allow viewers to see the scenes from a new point of view now that the truth is revealed. As the truth unraveled, the wheels in my brain turned to connect each dot to the next. If there's one thing Johnson knows how to do, it's making a murder mystery. 
Additionally, Monae's duality and full commitment to her character take the scenes to the next level. Viewers empathize with her and feel her pain, which immerses watchers in the film even more. Her acting, along with Craig's, allows viewers to actually solve the mystery with them. As a clue was given, I found myself actively trying to figure out what happened, which is what makes Johnson's films special. They make murder mysteries fun without the unnecessary horror aspects. 
Unfortunately, starting to reveal the mystery midway through leaves quite some time to keep the viewers hooked. While Johnson tried his best, the ending itself felt dragged on and unnecessary. Despite this, the overarching plot and delivery by the outstanding actors/actresses elevated this film from average to memorable. "Glass Onion" should be used as an example of how to make a good murder mystery.
Leave a Comment
About the Contributor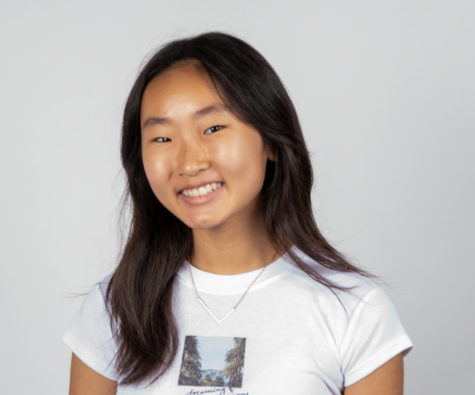 Lauren Choy, Staff Writer
Hi I'm Lauren and I guess I'm a returning writer now, even though I still feel like a new writer. I hope my stories don't bore you too much. :)