TJ's Treats
Editor-in-Chief Katarina (Haven) Beches samples and reviews seasonal treats from popular grocer Trader Joe's.
My love for Trader Joe's knows no bounds. Every time I walk into the Hawaiian-themed yet freezing store, I know I'm in for a treat. 
It's no secret that Trader Joe's has unique, unforgettable and sometimes unconventional or—dare I say—weird products. From Turkey stuffing potato chips to pickle popcorn to boba ice cream, this place has it all. 
Armed with my reusable TJ's tote and wearing a parka suitable for the arctic, I tried Trader Joe's winter specialties so you know which ones to try and which ones to skip out on this year. 
I love Trader Joe's ice cream. But, I love their miniature ice cream cones even more. Imagine my surprise when, while perusing my favorite frozen aisle, I saw peppermint-flavored cones. They were in my cart before my mouth could start salivating. Minty, refreshing and chocolate covered, there's nothing not to love about this delectable treat. The mini size makes these cones perfect for an after-dinner treat and I found that because of the peppermint flavor, they both satisfied and left a great taste in your mouth. 
I love peppermint, but the mini peppermint meringues were a no for me. If you're going to have merengue, make it yourself. Turn on the Great British Bake Off (available on Netflix) and have Paul Hollywood or Mary Berry serenade you with tales of egg whites and whipping. Just don't spend your time or money on these. They're too chewy, lack crispness and are entirely mediocre.
Foraying into the world of ginger, Trader Joe's has a vast array of options. I picked up two of them: the mini gingerbread people and the gingerbread sandwich cookies. 
The mini gingerbread people (loved how it's not men or women but people—go TJ's for inclusivity!) are perfectly spiced but can taste dry and claggy at times. Pair these with warm milk (I recommend almond) and beware because almost every "person's" head was decapitated when I pulled them out. 
Yes, on the gingerbread sandwich cookies. They're a soft gingerbread with frosting inside, and although I found them to be messy, as frosting splayed out over the entire box, they're a real treat to behold. Not-too-sweet frosting joins two sugar-topped gingerbreads, making for a lovely bite. 
The Jingle Jangle is 50/50 for me. Even though it's a glorified and holiday-ified trek mix with no nutritionally redeeming qualities, it tastes fantastic and makes for a great snack while watching movies by the fire. However, the pieces stuck to the sides of the tin and at times, I found myself cherry-picking only to find that there were significantly larger portions of two types of chocolate-covered pretzel than, say, the mini peanut butter cups. You can make your own version of this on your own, crafting a desert charcuterie if you will, and be just as happy. 
The dark chocolate star-shaped shortbread cookies. Now, I have a love-hate relationship with these. Trader Joe's has a similar heart-shaped cookie around Valentine's day and they're fantastic. My issue here is false advertising. These cookies are labeled as shortbread, yet as a self-proclaimed cookie connoisseur who has had her fair share of shortbread and has baked it numerous times, I absolutely disagree. Shortbread is buttery, soft and melts in your mouth. These cookies, although delicious, do not. They're more crunchy and have a bite. But, despite this little labeling snafu, I highly recommend you try these out. 
Trader Joe's did not miss this year. Despite some false advertising, clagginess that can be cured with a warm beverage and the motivation to make your own merengue (you'll be so proud of yourself), it's worth a trip (or two, or five) to this lovely store to try out what they have to offer. Enjoy. 
Leave a Comment
About the Contributor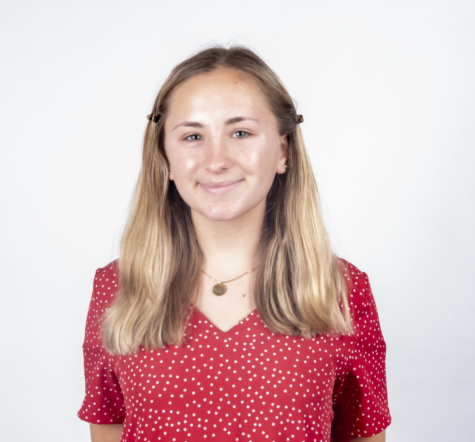 Katarina (Haven) Beches, Editor In Chief
Time is valuable. Don't waste it reading my bio. Read my porn story instead (click print edition, sex issue, center spread).