The Cat is Back
"Puss in Boots: The Last Wish" is an entertaining and refreshing animation movie for all ages.
Fairy Tales, vigilantes, a classic story of acceptance and friendship. "Puss in Boots: The Last Wish" includes everything an entertaining animation movie should have.
This sequel was released on Dec. 21, more than ten years after its predecessor. Despite the large gap in publication, there was still much anticipation about the film upon its release, with a star-studded cast featuring Florence Pugh, Salma Hayek, Olivia Coleman and, of course, Antonio Banderas. The movie follows Puss (Banderas) as he tries to survive his ninth and last life. In an attempt to evade his death, he retires as a house cat where he meets an unnamed and unwanted dog called Perro, who becomes his companion. Upon discovering the legend of the Wishing Star, Puss, his companion and his ex-partner, Kitty Softpaws (Hayek), unite to find it before other bounty hunters. The legend details that whoever finds and holds the map to the Star is shown a personalized path that they must take in order to reach it. Once they find the Star, it will make any wish come true. 
The first notable aspect about the movie is its vastly different animation style compared to the first "Puss in Boots" movie and the rest of the Shrek franchise. "Puss in Boots: The Last Wish" uses a more comic-art style animation, which has become increasingly popular in recent years. This style makes the action scenes more detailed and eventful, as well as the overall storyboard more action-packed. 
The sequel is also more visually appealing than the original. While the first movie unfolded the plot through comedy, the new movie focused on aesthetics and featured more intricate designs. The only downside I could pinpoint about this decision is that the multi-layered jokes from which the franchise gets its charm weren't as prominent here. Nonetheless, the immersive images made up for the lack of double-entendres. 
Even though the traditional jokes weren't as prevalent, "Puss in Boots" stayed true to its parody of Zorro roots and classic fairytale references. In this film, viewers are introduced to Goldilocks and the Three Bears and Jack Horner as they all race to reach the star. Jack Horner specifically has an obsession with fairytale memorabilia, which kept me on my toes throughout to see how many items I could recognize. 
The story also expresses a heartwarming message about appreciating life because we only get one. This theme is primarily portrayed through Perro – the cutest character with the darkest backstory. Despite being abused and abandoned by his pack as a puppy, he maintains a bubbly personality and positive outlook throughout every obstacle the trio faces on their quest. For example, with carnivorous flowers in his face, he decides to 'stop and smell the roses.' The most wholesome part of his character is that he is the only one who doesn't ask for a wish because he believes he already has what he needs: friends. Perro provides the pure, uplifting attitude towards life that I think society needs. 
With refreshing new details and an homage to its roots, "Puss in Boots: The Last Wish" is a well-rounded story that is enjoyable for all ages. While I would be content with this being the last movie of the series, the film ended on a cliffhanger. We are left to wonder where Puss and his new friends return to "visit some old friends," which suggests a return for the whole Shrek franchise gang. Although Puss is in his last life, I certainly hope this won't be the last we see of him.
Leave a Comment
About the Writer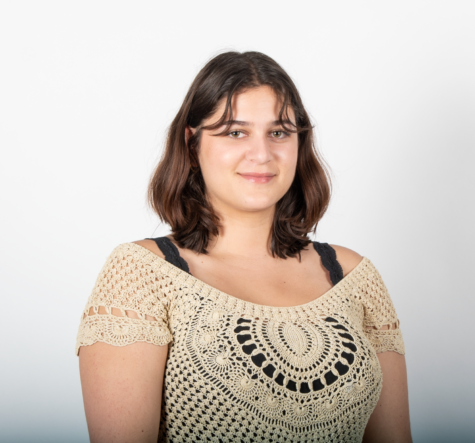 Izzie Escobar, Staff Writer
My name is Izzie and I'm a senior staff writer. I've been on staff for 2 years and it's been a lot of fun. I originally joined because of my obsession with Gilmore Girls and Sex and the City and wanting...