Redemption
In low spirits after their first loss in the Bay League against Culver City the previous night, boys basketball bounced back quickly with a close win against Narbonne on Jan. 7 in the final match of the Take Flight Challenge tournament.
Following up the intense Bishop Montgomery vs. Harvard Westlake game, which ended in three overtimes, Redondo stayed consistent with their pregame energy, looking to redeem themselves from the night before.
"We had our game plan written on the board in the locker room, and we stayed hyped. We just had to keep up the energy in the locker room and warm ups" said sophomore forward Hudson Mayes. 
A fairly equal match between the two teams, Redondo had no specific approach in this game, except to play their hardest and target their defense towards Narbonne's four-star player, Marcus Adams. 
"It almost made us play with more intensity because we knew he was so good. He came out here and did his thing, but that's part of how we pulled through with the win," said senior point guard Aidan Kwan
Challenged offensively, Redondo still led by the end of the first quarter 18-10. Although strapped with their four-star weapon, Narbonne's team wasn't as cohesive as Redondo's, giving the Sea Hawks the upper hand as they utilized all five players on the court, rather than just the one. 
"We focused better on moving the ball today, and really trying to play five on five instead of five on one like the other team. There was really only one guy that we needed to stop, because the rest of his team wasn't doing as well, whereas we were gonna beat them all together," Kwan said. 
Ending the half down 31-27, the boys still fought hard as a team to catch up. As they consistently "played with more heart" according to Mayes, the Sea Hawks upped their offensive game to maintain a close score against their opponent.
"We were able to pass the ball to get people open and also penetrate inside the lanes. We got Cole [Stokes] a bunch of good points, and some three's at the end for Tyler [Klade-Klein] and Aidan [Kwan] to seal it. Cole was really in there the entire game getting a bunch of three's on the outside. It was a really good game for him," Mayes said. 
Entering the fourth quarter with a narrow two-point lead, there was a described "fighting spirit" in the team's game towards the end. With Narbonne closely trailing, it came down to the "heart" that Redondo put into their game that resulted in the win.
"We had an urgency to really close it out in the end, which is why ultimately we came out on top," Mayes said. 
Cutting it close with a final score of 62-61, spirits were high in the gym as players ran onto the court to celebrate their redeeming win. Still excited to bounce back, the tight margins urged the team to secure definite wins in the future. 
"We could probably close out games better. It was really the other team that didn't win as opposed to saying we won," Kwan said, "so we should really look to expand our leads and blow teams out going forward."
Leave a Comment
About the Contributor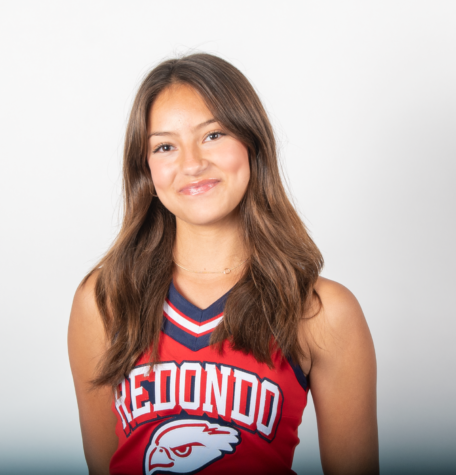 Ava Anzivino, Staff Writer
Hi, I'm Ava Anzivino! I'm so excited to join the High Tide as a Staff Writer! You can find me on campus rushing to my next class, or on the field cheering on the Seahawks sports teams. I love hearing...