Twice for good measure
Boys' basketball beat Washington Prep a second time on Dec. 2 in the annual PAC Shores Ryse Williams Tournament.
Coming off a win from their game against St. Anthony's on Nov. 30, boy's varsity basketball brought high levels of confidence for their final game of the annual PAC Shores Ryse Williams tournament. They played Washington Prep on Dec. 2, and took home another win with a score of 58-46, making their record to 3-0.
Having beat Washington Prep earlier in the season, there was already a sense of tight competition upon taking the court. 
"Last time we played [Washington Prep], we only beat them by two points in the last couple seconds, so we knew they wanted to come out and beat us. So we just had to do what we do best, impose our will, and get stops on offense and defense," senior point guard Aidan Kwan said. 
To ensure their winning streak over their opponent, Redondo relied on the weaknesses that Washington Prep had shown in their first game for preparation.
  "We were running mostly defense this week in practices, looking to initiate contact with them and be the aggressor," freshman shooting guard SJ Madison said. 
After starting off strong at tip-off with the ball in Redondo's possession, the ball went through multiple turnovers on both sides before points were put on the board. Proving the effectiveness of their groundwork, Redondo's defensive plays were what put them on top, from beginning to end. 
"We got a lot of steals on defense, and they didn't really do that, so in that sense we worked better as a team than they did in this game," Madison said. "Personally, my defensive game was much stronger today [than in the last matchup]. I had a lot of turnovers, so that stood out in the end."
On the offensive side, Kwan, who had 16 points this game, said that while they did a good job executing what Head Coach Reggie Morris had instructed them to do, the team could have had more focus in the second half in order to take more precise shots. 
"We need to concentrate the whole game. When we lose that focus, our confidence is broken, and that's when the little mistakes get made," Kwan said. 
Due to the decreasing confidence as the game progressed, the team's offense did not meet their usual standards, despite Redondo being up 33-24 at halftime. 
"I didn't shoot enough in this game, which I definitely could've done [more of]. If I had taken better shots then I'd say my game was solid. And I think we could've used more confidence in our free throws as well," Madison said. 
Leading 47-36 at the end of the third quarter, the Sea Hawks' defense continued to hold strong, but small errors showed through. Still maintaining around a 10-point lead for the remainder of the game, Washington Prep's offensive game gave Redondo a run for their money. 
"We were giving them easy layups, and leaving things open when we could've easily blocked. At that point it was simply up to our communication skills to avoid little slips up like that," Kwan said. 
Nonetheless, their defense acted as their backbone, handing them the win by a difference of 12 points.
Although reflecting on their need to stay concentrated for the entire duration of the game, the team was still happy with their general performance and the energy they curated on the court with each other, as their skill set still outmatched their opponent's. 
"We just have to continue to play hard and be confident," Kwan said. "Every game is a new game, and that's what we need to remember this season."
Leave a Comment
About the Contributor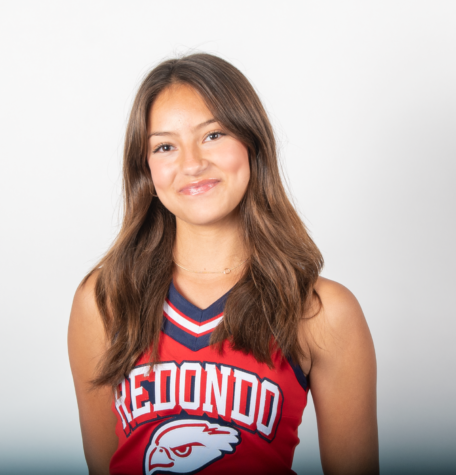 Ava Anzivino, Staff Writer
Hi, I'm Ava Anzivino! I'm so excited to join the High Tide as a Staff Writer! You can find me on campus rushing to my next class, or on the field cheering on the Seahawks sports teams. I love hearing...