The Hush-Hush of Hollywood
Based on the true story of the #MeToo movement. "She Said" is a thoughtfully depicted and riveting biopic.
Five-dollar Tuesdays at AMC Theater seemed like the perfect opportunity to see "She Said." This is a new film based on the New York Times Pulitzer Prize-winning investigation and best-selling book that reinvigorated the #MeToo movement and opened up a dialog on sexual assault in the workplace. 
This movie tells the true story of New York Times journalists Megan Twohey and Jodi Kantor as they investigate the systemic sexual abuse within Hollywood. They delve into the abuse carried out by film producer and Miramax co-founder Harvey Weinstein, who produced award-winning films such as "Good Will Hunting" and the "Kill Bill" franchise.
Twohey is played by two-time Academy Award nominee Carey Mulligan, while Zoe Kazan plays Jodi Kantor. Both actresses do a fantastic job bringing this story to life. They show the bravery of these two journalists going against powerful Hollywood heavyweights. Simultaneously, their characters portray vulnerability as they deal with the everyday struggles of being working women and mothers.
The film focuses on Twohey and Kantor as they investigate old allegations of sexual assault and abuse against Weinstein, many of which fell prey to a settlement. As they uncover each case, they must track down each woman, convince them to share their story, and go on the record. The victims ranged from actresses and assistants to young women striving for a career in movie production. "She Said" masterfully displays these journalists' battle to share the truth.
The film highlights the lengths these journalists take to preserve their integrity. While Twohey and Kantor meet with each victim, they work diligently to corroborate each story and gather documentation when possible with extensive fact-checking. Showing this process lends credibility to their work and made me trust the characters I was watching—making myself and everyone in the theater captivated to see what will happen next.
"She Said" depicts the threats the journalists faced through their investigation, showing how they put their families on the line to help tell these women's stories. These moments that show the duality of these writers' lives help garner empathy from the viewer and help us sympathize with their human struggle—allowing us to put ourselves in their shoes. While it may take most readers only five minutes to skim the article's contents, these journalists spent months researching and writing this piece that would eventually have a positive impact on society. 
The cinematography of this film is exquisite and keeps the viewer engaged. Director Maria Schrader's simplistically framed shots throughout the film help enhance each actress's emotions and story. In a Variety interview, Nicholas Britell, the movie's composer, said that Schrader "wanted the music at the beginning of the movie to know more than we do." The score does just that, blending visuals and audio seamlessly to create an ominous and tense energy.
If explicit visual content of sexual assault triggers you, the film has no scenes of abuse but is filled with meaningful and riveting conversations about each victim's experiences and trauma. Rather than "show," this movie "tells," a reason it is so aptly named "She Said." 
Overall, this movie has great acting, is thoughtfully put together, and tells an important story. "She Said" is an essential film for women and journalists and tells an important story of workplace sexual assault that everyone should hear. Fans of other investigative reporting films, such as "Spotlight," "All the President's Men," and "The Post," will enjoy this movie and, hopefully, find its message of female empowerment in a society built to protect men impactful. Next time you have free 2 hours and want to go see a movie, watch "She Said" at your local theater.
Leave a Comment
About the Writer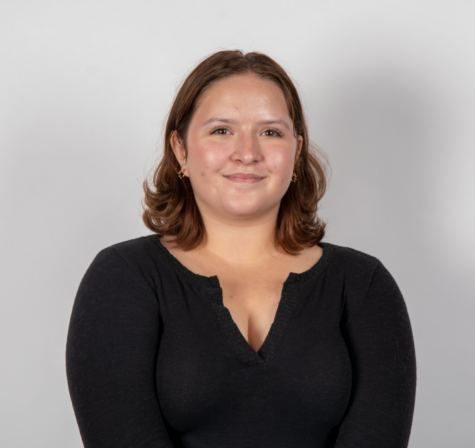 Zoe Rossi, Copy Editor
Hey y'all! I am Zoe Rossi! This is my second year on the High Tide staff, and I am one of the copy editors! I am also one of the Captains of the Varsity cheer team. I read a lot of books, so if you see...