Spin to Win
Senior Justin Romero's passion for music evolved into a way for him to being energy and share love to a crowd.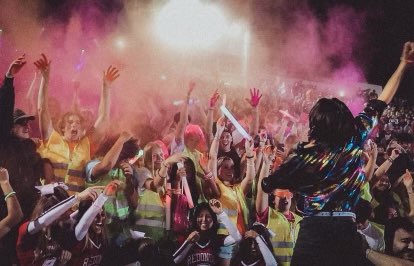 The crowd cheers, as the music turns up and the energy surrounds them. Senior Justin Romero, known under the DJ name Postman Cinco, was happy with himself knowing that he was the one controlling the energy of the night with his music.
At home, Romero's parents Kim and Bryan Romero appreciate his passion for music. They both think that Romero has a unique way of how he thinks. 
"The way he thinks is very non-traditional. He doesn't want to be enclosed in a box and be average, so that's why he started developing his passion for DJing and music and bringing people together," the two said. "That's his biggest thing —seeing how he has made other people happier."
For some of his gigs, Romero plays music at RUHS sports games. He has been a DJ for three years, known for the games that he has played, although that is not his only job. 
"I wanted to be the one moving people with sound. You can't make people dance, but you can control the energy that you're presenting, which is the beauty of it. DJing has endless capabilities, and that's what I love about it," Romero said.
Romero has been into music ever since he was a kid, dancing and singing like Michael Jackson and putting on performances for his parents. When he got started, Romero sought out different ways to get involved with music. He attempted playing instruments like the guitar and singing and rapping, but the one thing that stuck with him and he enjoyed was producing music and DJing. 
"I was just like every other kid, listening to Michael Jackson, all that stuff, and I'd always used to take over the speakers at all the parties. So that's how I really got into [DJing.] It's just a love of music," Romero said.
Romero found his place in music when he was cut from the basketball team. He felt that music saved him when he was in a low place and that his love for music brought him back. Basketball games were also where he first started playing music, as he asked his basketball coach if he could play at some of the games to create more energy and excitement. This led to other sports asking him to play at their games.
"When I was cut from basketball, I had nothing except for music. And people were doubting me and I just want to thank myself, for just not stopping," Romero said.
Working with the school isn't the only job that Romero has, although he says the publicity does help his reputation in music. He collaborates with rappers and different people that his producers Ryder Hogan (Area 52) and Eltzeey, send his way; these collaborations were the first time he made his own music. 
"The school has helped a lot in terms of publicity with the student section of the week. And the football games have garnered so much attention because we've had such a winning season. I really enjoy being in the crowd. It's one of my favorite crowds," Romero said. 
According to Romero, getting the jobs was a process that required him to network as if he was someone working in business. Romero explained how getting gigs relied more on seeking out jobs and getting exposure as opposed to "being really good."
"It's not just about being the best all the time because there's other people who are a lot worse than me and a lot better than me and they get less gigs. It just depends on how much you put yourself out there as far as gigs go," Romero said. "You can't always tell someone's skill just based on how they're doing [and how many gigs they have]." 
There was also a process to learning how to DJ and finding his way around it. Romero explained how the process of learning music was trial and error until he found what was right. A lot of the knowledge on music that he has now, he learned from his producers.
"In music, like anything else, everyone's learning curve is different. Some ways that I [improve my knowledge on music] is from the internet — that's free learning," Romero said. "I also take classes, and honestly just practice freestyle by myself."
Romero's parents also find that he tries to get the best education he can for the lowest price. Learning how to DJ from YouTube and online courses, Romero says he tries to take advantage of the resources he has, such as by taking the business course at school. He plans to work not only as a DJ in the future, but also in business. 
"[Romero] doesn't believe in spending a lot of money to get a high-level education, so he doesn't really want to have to go through that traditional route of going to a very expensive college and then coming out with a lot of debt. So he finds ways to get his education, usually through free online classes," his parents said. "Mostly he'll self-educate himself, but he's just naturally creative and just has the ability and an infectious personality which brings folks together."
At home, Romero likes to be the entertainment and source of energy, according to Kim and Bryan; Romero has a set-up of all his equipment in both his dad's office and the garage. Although his parents occasionally help pay for his equipment, Romero buys most of it himself, as his parents want him to have freedom and control over his future.
"The way that we try to raise our children is to allow them to have the freedom in their creativity to do what they want in life because you make more money being happy," Bryan said
One of Romero's goals in DJing is to make a positive impact on people through his music and help them find their way through music just like he did. Expanding his music to wherever he can, school, gigs, at home, parties and even just a little entertainment here and there when the Romero family has people over, 
"My goal is to spread my message—peace and love and music," Romero said. "I feel like there's this conflict in the world but at the end of the day, there is a time to put down everything and just enjoy music and enjoy the energy of being around other people and just being in the present moment, and that's what I really want to use my platform to push."
Leave a Comment
About the Contributor
Sofia Villanueva, Staff Writer
Hey? I'm Sofia, and I'm a freshmnan and this is my first year as a staff writer. I love marvel/action movies, One Direction and hanging out with my friends. As Louis Tomlinson would say, we all are just...