Holly jolly jingles
Staff writer Amina Raïss reviews five non-Christmas holiday songs.
The soothing sounds of winter music ushers in the holiday season. From the jingles of Christmas commercials, to the background music in the malls, winter-themed music is ubiquitous with the holiday season. Regardless of whether you celebrate Christmas or not, hearing holiday-themed music is bound to envelop you like a warm cozy sweater. Both soothing and nostalgic, the multisensory appeal of winter music is undeniable; it imparts the feeling of cuddling in front of a crackling fireplace, holding a steaming mug of hot chocolate and relaxing into bliss. Most of the songs you hear during this month will directly reference Christmas, however some will not mention the word Christmas at all. All are enjoyable and primed to add to any playlist. Get your robe and fuzzy slippers ready, here are some non-Christmas related winter tunes.
First up is "Winter Wonderland" sung by Micheal Buble. Written in 1934 by Felix Bernard, this old standard has been reinterpreted by innumerable artists. Buble's version, however, is my all-time favorite. Growing up in the sunny climate of Southern California doesn't give us much chance to live in a "winter wonderland." However, listening to this song will certainly transport you there. Give it a listen if you want to escape the un-winter weather of Redondo. Just hearing the familiar opening music gives me goosebumps, I could've sworn I shivered once or twice while it played. 
Next: "Frosty the Snowman," sung by Gene Autry. My mom and I always watch "Frosty the Snowman" together during the Christmas season, so this one holds a special place in my heart. It reminds me of childhood and is so joyful and full of glee. While listening, all my stress seems to float away and I am transported back to a time of childlike wonder. The jolly and upbeat tone is infectious and makes me want to watch the movie, on repeat. 
Third is "Baby it's Cold Outside" by Dean Martin. Written in 1944 by Frank Loesser, there are over 400 recordings of this song. Recently, it has been the subject of controversy with the male seemingly pressuring the unwilling woman to stay. It's up for discussion whether this song is appropriate. With that said, Martin's rich crooning delivery combined with the woman's gentle and whimsical notes, combine to create a lovely ambiance. This duet definitely puts me in the holiday and winter mood. 
Frank Sinatra's, "Let it Snow! Let it Snow! Let it Snow!", is for sure another one of my favorites on the list. Recorded by Sinatra in 1950, this song has enjoyed worldwide popularity. Originally written in 1945 by lyricist Sammy Cahn during a California summer heat wave, the easy sing-along pace of the song is perfect to get you into the holiday spirit. Despite never mentioning Christmas in the lyrics, "Let it Snow" is the perfect holiday song. It is fun, whimsical and lighthearted, a classic earworm.
And finally, "Jingle Bell Rock" by Bobby Helms. I have yet to meet a person who doesn't like this song. I feel like I was born already knowing the lyrics. Whenever I hear this song, I immediately think of "Home Alone." This movie and therefore this song is a holiday staple in my house, and actually puts me in a happy mood. For such a short song, with a run time of slightly more than two minutes, it manages to lift spirits from the moment the first riff plays.
Leave a Comment
About the Contributor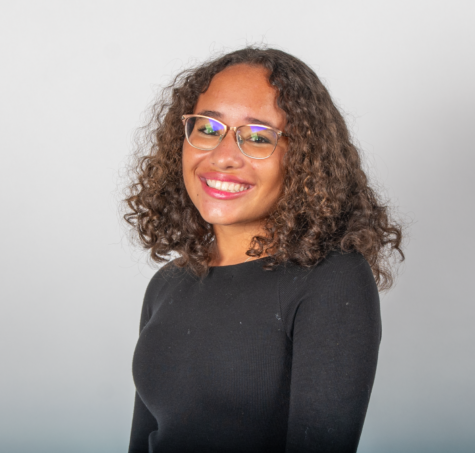 Amina Raiss, Staff Writer
Hi! My name is Amina and this is my second year on staff. I'm a sophomore and play on the tennis team. I love to write, surf, read, listen to music and obviously play tennis. I am very happy to be part...