Cozy With Cocoa
Staff writer Izzie Escobar reviews hot chocolate from three local restaurants.
As soon as the weather drops below 65°, I whip out the ingredients for my special hot chocolate. Although I prefer to make mine at home, I occasionally like to splurge on hot chocolate from a cafe. Wanting to explore new restaurants, I decided to go on a hunt to find the best hot chocolate in the South Bay. 
I'll admit, I am picky with my hot chocolate. The chocolate must be rich and flavorful, but not overpowering, and I have a personal vendetta against any hot chocolate made with water. If it's not creamy and smooth, what's the point? It takes a lot for me to be impressed with a hot chocolate, so let's see if any of these places can meet my expectations.
I first started at my workplace, Capri Gelato and Coffee Bar on Hermosa Beach Pier. Their unique hot chocolate is made with their milk chocolate gelato rather than a syrup or powder. At only $3.75 for a small, I absolutely loved this drink. It's the perfect balance of creaminess and decadence, and while the gelato may seem intimidating, it isn't too heavy. Despite the richness of the drink, my tongue never got tired of the flavor or the refreshing whipped cream on top. Coming from a lactose-intolerant family, I also try to look for dairy-free or low dairy options for winter drinks. So, I also tried their regular hot chocolate with oat milk and chocolate syrup, with a special request for a dash of nutmeg and cinnamon. This provided the loving warmth that I crave in the cold, dry weather. The oat milk also ensures that you don't miss out on the classic creaminess of a regular hot chocolate. The only issue with their gelato hot chocolate is that it takes a while to make because they have to steam it several times to melt the gelato. But I'd say it's worth the wait. 
Next, I traveled to the Redondo Riviera to one of my favorite cafes of all time, Yellow Vase. Despite coming here numerous times since 8th grade, I've never tried their hot chocolate. I was pleasantly surprised to see they had a regular and caramel hot chocolate, and I ordered both. I'm not the biggest fan of caramel, so I ordered it with low expectations. As I watched the waiter bring over the two piping hot cups, I noticed something was already off: the color of the regular hot chocolate was a lot lighter than I expected. I assumed there was a layer of foam on top, but when I moved around the liquid, it just looked like dark milk. To no surprise, I couldn't detect even a hint of chocolate in it,  but I remained hopeful that the caramel version could redeem Yellow Vase. The first sip reminded me of buttered popcorn, which I didn't love, but as I kept drinking it the sweet caramel came through more and more. Overall, the caramel hot chocolate was not too bad, but I'm not sure I'd order it again. If you're a big caramel person, however, this is definitely the drink for you. I'd like to give their regular hot chocolate the benefit of the doubt because it's possible that my experience was just a fluke. 
I ended my hunt at The Kettle in Manhattan Beach, which seemed promising, as it was highly recommended to me. I set even higher standards when I found out they had completely sold out of the Ghirardelli hot chocolate for nearly a week. When I was finally able to try it, I was a little alarmed at the price. For $5.95, I expected it to be one of the most delicious cups of hot chocolate I've ever had. Considering that the cup size is more like a small bowl of soup, I ended up not feeling too bad about how expensive it was. The drink itself, however, was slightly underwhelming. The first sip tasted like nothing, just hot liquid. The mountain of whipped cream and chocolate drizzle on top was mostly to blame, but I applaud the presentation. Once I finished most of the whipped cream and let some of it melt into the drink, then the chocolate flavor came through. With each sip I was getting stronger notes of the chocolate, but it wasn't as creamy as I would have liked. I realized that this hot chocolate was made with water rather than milk, and this is honestly my only qualm with The Kettle's hot chocolate. Milk would have made the drink beautifully smooth and enhanced the richness of the chocolate. The drink was good, but I wouldn't say it's entirely worth the price. Their Ghirardelli hot chocolate has the potential to be the greatest, but my personal vendetta gets in the way of a much higher rating.
Capri Gelato and Coffee Bar takes the cake with the best hot chocolate, with The Kettle as a close second. If you're ever craving a hot chocolate with delectable warmth and just the right amount of sweetness, then I highly recommend Capri to satisfy your winter needs. 
Leave a Comment
About the Contributor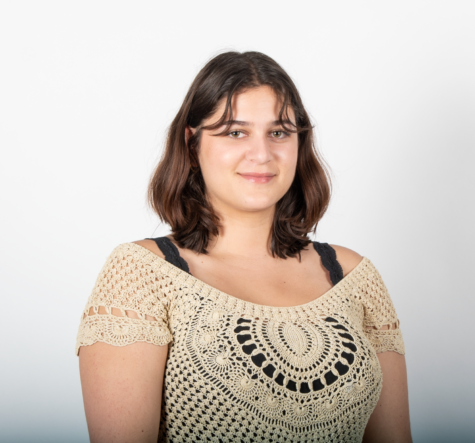 Izzie Escobar, Staff Writer
My name is Izzie and I'm a senior staff writer. I've been on staff for 2 years and it's been a lot of fun. I originally joined because of my obsession with Gilmore Girls and Sex and the City and wanting...