A New Home Court
Forty minute morning commutes, seven a.m. tutoring sessions, two hour classes and three hour practices. The stacked day that freshman SJ Madison has ahead of him proves worth it when it comes to his dedication to basketball. Madison transferred to RUHS from City School in Los Angeles to play for the boy's varsity basketball team. 
From when he first started playing basketball, Madison was inspired by major role models like Kobe Bryant and Jaylen Brown, as well as others more close to home like his own father. According to Madison, basketball was a "key part" of his upbringing.
"When I first saw Kobe Bryant play, I was inspired and my dad knew how to play and helped me out. He's been my inspiration my whole life," Madison said. 
His father, along with the rest of his support system of coaches, teammates and even teachers encouraged his ambition for the sport, while also stressing the importance of becoming a well rounded individual. 
"My dad is always talking to me about basketball, but he's on top of me about my studies—saying what to do and not do—so that I'm out of trouble," Madison said. "My parents always want to know what I'm up to because they really do care. And I've got other people around; my math teacher especially looks out for me and helps me with my studies." 
Madison's schedule of "challenging" training with the team for three to four hours everyday, as well as preseason tournaments on weekends, forces him to stay organized off the court. 
"I'm able to fit free time into my schedule, and I always have a schedule for myself because of my practices. I always know what to do and when to do it," Madison said. 
Choosing to pursue his goals in basketball immersed Madison in a lifestyle that's caused him to not only curate new habits academically, but also socially. As a freshman on varsity, Madison has learned to befriend anyone he meets, getting especially close to the upperclassmen he plays with. 
"We're kind of like his big brothers and mentors a little. We help him out with things off the court, especially like his academics," senior teammate Josh Antilla said. 
Thrown into a team with upperclassmen who have played together for several years was "not challenging" for Madison. Due to the opportunities that the team is given to bond—like the team overnight retreat at the gym or the off-campus activities that the team does together—Madison was able to "easily" work his way into the team's chemistry. 
"It's pretty natural for me to get along with anyone, especially because most of my friends are through basketball. And with that I'm also able to network around, because I know so many people. That's kinda how I've made it here," Madison said.
Compelled to play by Head Coach Reggie Morris, who had coached Madison's cousin, Madison was acknowledged for his mentality and ability when he was made a new addition to varsity.
"SJ has a great work ethic and will to learn. He's still a freshman and has a lot of fundamentals to learn, but his talent is enormous and he has a chance to be a very good player," Morris said. 
As Madison receives many accolades for his talent, he notes his need to "stay mindful" throughout the chaos of the season. 
"Of all things that have been said to me, there hasn't been too much pressure put on me. Naturally, there's gonna be some stress on the court, but I've never been the person to let it get to me. I've focused a lot on relieving stress when I'm nervous, breathing when I need to breathe, and recently I've even tried things like yoga to stay in tune with myself," Madison said. 
With the support system he's built up, and the mentality that he has developed to make progress and win, Madison and the team have begun preparing for their upcoming season. Due to the three to four hour practices everyday, as well as their preseason tournaments and activities, the team has high expectations for what's to come. 
"We're very confident in our defense and offense. We believe in everyone on the team, and we're all very connected at this point. With that being said, we're hoping to win the Bay League this season," Madison said. 
As for Madison as an individual player, the conjecture for his game this season is looking "hopeful." 
"SJ has a chance to be a very instrumental part of our program. If he can continue to stay patient and humble, only good things will come about for him," Morris said. 
Regardless of any commentary from a coach or a teammate, Madison is set on simply being "completely ready" for what's to come for his first high school basketball season.
"I just want to keep achieving," Madison said. "I'm gonna try my best to stay level-headed and handle what's ahead of me.
Leave a Comment
About the Contributor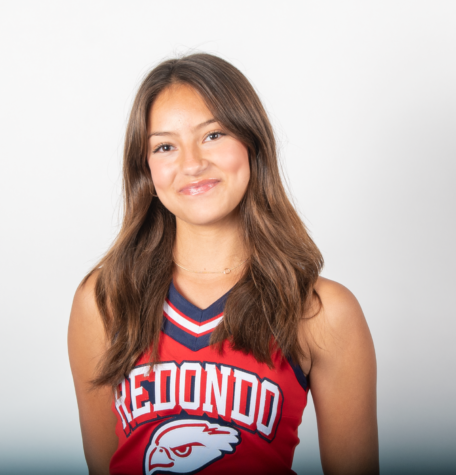 Ava Anzivino, Staff Writer
Hi, I'm Ava Anzivino! I'm so excited to join the High Tide as a Staff Writer! You can find me on campus rushing to my next class, or on the field cheering on the Seahawks sports teams. I love hearing...