Fall Favorites
With fall festivities near, High Tide staff list their top 5 songs of the season to get you into that autumn mood.
Sweater weather calls for a new seasonal playlist, so in honor of the second-best time of year here are some songs that capture the feeling of autumn leaves falling into place. 
My personal mixtape starts with a banger from one of my favorite indie-acoustic artists, Lizzy McAlpine. A collaborative track with Grammy-winner Jacob Collier, "erase me" combines McAlpine's genius songwriting with Collier's production skills to create a synth-y, 7-Eleven-late-night-drive song that's perfect for belting in the car. The song sits in the haziness of a breakup as the narrator grapples with feelings for her ex, exploring the apathy of rebound hookups. It reminds me of sitting outside in the dark: no direction, no anxiousness, but wondering about everything that was and what comes next. 
Next is "Dog Years" by Maggie Rogers. When the wind blows through the trees on my walk home from school, I'm struck by the sunny sleepiness of autumn. "Dog Years" is that feeling in a song: slow kick drums, dreamy production and a voice as comforting as your favorite sweater. We all know the feeling of floating in the in-between time–warm, tired, and softly optimistic–and this song is perfect for baking cookies in the late afternoon. It's a song about the friends that keep you steady even as the seasons change, that, even in the bleakest moments, you have people to love you. What's more autumn than that?
Because this playlist has no skips, I added Niall Horan's acoustic cover of "Fool's Gold." In all honesty, I was never a One Direction stan. I wasn't super into the fandom or its culture in middle school—admittedly, I only know the quarter of their discography that's etched into the brains of every early 2000's kid. That said, this cover, from the boy band's record "FOUR," is easily one of my favorite autumn-flavored songs. Sometimes songs are only valued for their radio playability, but this version of "Fool's Gold" makes me realize how beautiful its lyrics are. ("I'm like a crow on a wire / You're the shining distraction that makes me fly"? Come on.) When the production is stripped down to just Horan and his guitar, it transforms from a British crooning tune to a lullaby of honey and rain. 
Another song that perfectly summarizes this season I found completely by accident. I was listening to "Stick Season" from Noah Kahan's newest record and "Everywhere, Everything" came on. I distinctly remember pausing my APUSH key concepts and sitting back to listen; it's one of those songs. Like many of my favorite songs for fall, "Everywhere, Everything" makes me ache in the best way possible. Kahan's belting of the chorus is perfectly in balance with the softer falsetto notes of well-written verses, and its subtle harmonies and production work together to create a song I play on repeat.
No autumn playlist is complete without Taylor Swift's 10-minute version of "All Too Well." It's one of her most visual songs: every time I listen to it, I can hear the leaves crunching beneath my nonexistent Doc Martens and feel the wool of a red scarf around my neck. "All Too Well" has everything a modern ballad needs, from piano and heartbreak to soul-shattering lines that simultaneously kill me and bring me back to life. It's a musical scrapbook of memories from a love so imprinted in your heart that you can't bear to let it go; perfect for Sad Girl Autumn™ and arguably Taylor's best song to date. 
Leave a Comment
About the Writer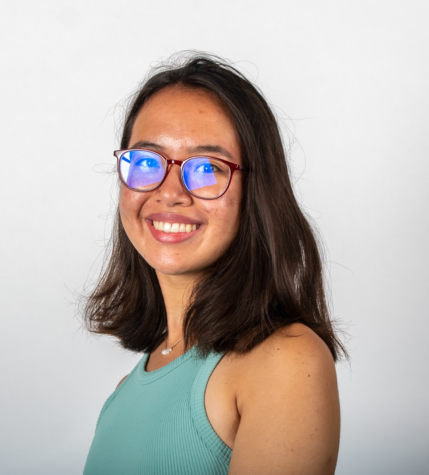 Lucy Davis, Online Editor
Junior. Lawyer, delegate, player of golf, writer. Will check in with you every Tuesday. I like to think that my stories are as good as my grilled cheese sandwiches, and I've heard positive things about...