Dance, Baby!
Student dancers choreograph, produce and perform their own dance show, "Through the Decades," through their local dance studio.
From jazz dancing to 2000s pop hits, high kicking to fifties songs, and going on pointe for songs from the eighties, the School of Dance and Music took their audience back in time with their latest performance, "Through the Decades." . From June to late October, students in the studio worked on the production, spending weeks choreographing, practicing and picking songs. Every move, formation, costume and song choice was produced by students who were ready to see the new, technical side of the creation of dance productions. 
According to senior dancer Alisha Kumar, dance has been an integral part of her life, and serves as a meaningful form of self expression. Growing up with it since she was a toddler, she's felt a valuable connection to the art form, and her participation in the show only heightened that.
"Dance allows me to escape to a world outside of the stress of school and life. I feel like my personality is able to shine through my movement and choreography," Kumar said. "Dance has provided me with a community and friends that I can always count on."
In May of this year, the studio's owner started a student council, "similar to ASB," Kumar said. Together, groups of juniors, seniors, and other students a part of the elite program from SDM took on the challenge. Junior Melis Turkgench said that a spot at the El Segundo High School Theater was reserved eight months before the performance was set to happen. 
After a slight "lull," in theme ideas, a concept was proposed that allowed the dancers to incorporate different styles of dance while exploring contrasting time periods and accurately representing every dancer. Integrating a Through the Decades take on the production was a "pretty unanimous decision," according to junior Sabrina Stone, a member of the production. 
A lot of dancers agreed that taking on a Through the Decades angle would help attract a wide array of people and be a lot of fun to work with. "A lot of people love to reminisce and get that nostalgic feeling when they listen to songs or watch a certain style of dance from a long time ago," Turkgench said. 
The dancers felt that being able to create and produce a show themselves could expose them to the "business side of the dance industry," as Kumar called it. It also allowed them space to create and experiment with different tech elements, an aspect that Stone and Turkgench enjoyed. 
The students themselves were able to choose who choreographed what, and would often "simply sit in a circle and divide up the roles," as Stone described it. For the most part, distribution of who did what within the production went over "pretty smoothly," with many members taking on multiple jobs in the production process. 
Turkgench noted that despite the fun the dancers had, one of the hardest challenges came with finding studio time availability for everyone in the production. With a lack of time to choreograph and practice, rehearsals on Sundays ranged from an hour and a half up to seven, starting at times as late as 9:15 p.m. Oftentimes, the dancers facetimed to each other throughout the week to, in Turkgench's words, really "get that choreography down." With the dancers spending so many hours of their week together, Kumar said that the show "brought the group closer together".
" We all collectively stressed about it together, trying to pull our own weight. Most of us have all been dancing together since we were young and this show just reinforced that close bond and further proved how well we can work together as a team," Kumar said.
The most rewarding part of the process came in seeing it all "come together," Turkgench said. All three dancers noted that getting to watch all of the tech elements be incorporated into the dances they had been learning was an incredibly valuable experience that gave them a sense of pride in what they had created.
Kumar observed that, despite the show's "elevated" production level, attendance at the actual show could've been produced in a different way. 
"At the beginning of the process we decided that only dancers in levels intermediate through advanced could be in the show because we wanted to maintain the quality. I believe that if we lowered the minimum level to younger dancers, then our turnout could have increased," Kumar said. 
The show took place on Oct. 29 with about 20 students total participating. According to the dancers in the production, the show went "even better than expected," with all the dance numbers and tech elements collaborating smoothly. From solos, to duos, to four-person numbers, the large variety of dances ended with an 18 person finale, which, all three dancers said, "was the hardest dance to work with."
"'I've been dancing since I was basically able to walk, and I just love that I am able to express a creative side of myself, especially through choreography and movement," Turkgench said. "Also, it just feels good to dance and make other people happy when you're on stage." 
Leave a Comment
About the Contributor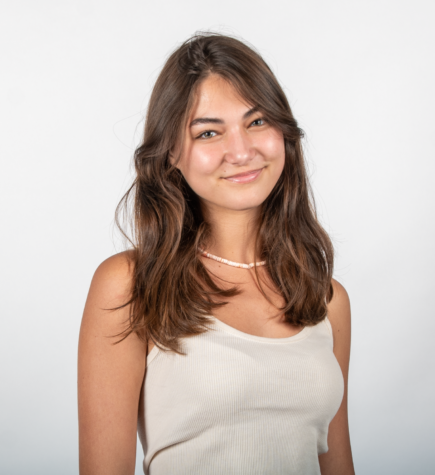 Danielle Bellamy, Staff Writer
Danielle is a senior staff writer and this is her first year on High Tide!! Though busy the past three years, she couldn't be more excited to finally be able to squeeze journalism into her schedule :)...