Cheer Teacher
Along with being on Varsity cheer, sophomore Leah Gnadt co-coaches the Torrance Youth Cheer Team with her mother.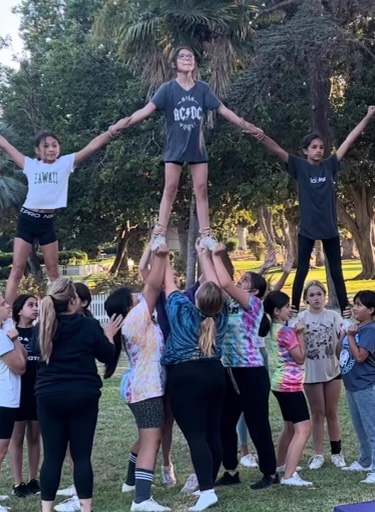 Shaking pom pons, learning dances and rallying for our Sea Hawk athletes isn't all that sophomore varsity cheerleader Leah Gnadt does for cheerleading. Gnadt spends her time after school volunteering to coach the Torrance Panthers Youth Cheer Team alongside her mom every Monday and Wednesday.
Gnadt was approached by the main cheer director as well as other coaches seeking her help with the younger age division cheer teams which was her focus last year. This year she is now coaching the older age division with her mom. 
Coaching the fifth through seventh grade age division with her mother, Dawn Gnadt, for Sideline Season, from August to October, and also the Competitive Season, which lasts from October to February. Gnadt and her girls typically meet at West High's Cheer room, or go to Divas Gym in the South Bay, where they practice for upcoming events and competitions. 
Gnadt, who has prior experience cheering, jumped at the opportunity to start coaching the Torrance Panthers Girls Youth Team. Gnadt has been sideline cheering for eight years, and done Competition Cheering for six. Her mom was her cheer coach, and now that they are working together, they are  "learning how to work as a team with young kids", said Mrs. Gnadt. 
"This is my second year coaching but I've always had experiences with helping the younger girls because I was like that older teammate to them. I really enjoy it honestly, it's one of my favorite things to do just outside of school rather than just cheering and going to football games myself," said Gnadt.
Having to coach with a teenager alongside you would assume comes with its struggles, but for Gnadt's mom, it's one of the best parts about being a coach. 
 "I love coaching with my daughter. It brings us closer together, but we definitely had to learn to work together and play off each other's strengths and work as a team," Mrs. Gnadt said. 
This experience not only allows Gnadt to see her girls "succeed and grow", but also to see all her hard work pay off, when the team competes and wins competitions. 
"Cheer is a really difficult sport, especially competitive cheer. I think it's very overlooked in the sports like community. And especially for younger athletes, it's harder to get recognized. So I just think people should pay more attention to it and that [youth cheer] is the future of cheerleading," Gnadt says.
"In the beginning we had five girls who had never cheered before. [So] just seeing them grow and learning new dances and learning all the cheers and competing and winning competitions. It just makes me super happy to see them doing something they love," Gnadt said.
However, Gnadt says that it can be a struggle balancing school and her commitment as a Varsity cheerleader, and then being a coach for the Torrance girls. 
"There are sometimes where I can't go to their practices. But I just try to be there as much as I can," Gnadt says. 
But with the support of her mom as well as the parents and other coaches of the Torrance Girls Youth Cheer Team, Gnadt says, "I just try to be there as much as I can. The parents and the kids are very understanding of when I can and can't be there and my [school] schedule."
Leave a Comment
About the Contributor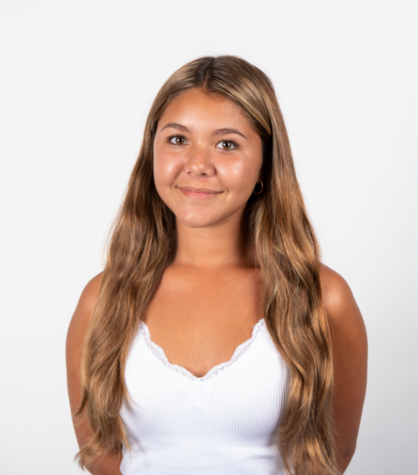 Luca Artiga, Staff Writer
Hi I'm Luca! If you have a band shirt on I will ask you to name at least 5 songs so be prepared to fight for your life. I love concerts and hanging out with my friends. I will talk about something I'm...