Staying Home for Homecoming
After the announcement that tickets for the Homecoming dance had sold out yesterday, 100 more tickets went on sale this morning, Oct. 11. Some students came to school at 7:00 AM to stand in line and try to buy one of the few, precious golden tickets. 
Ticket availability and accessibility has never been an issue in the past. Last year, some students bought their tickets the day before the dance, or even on the day of. However, this year, the 1400 person capacity capped the number of tickets off almost five days earlier. Freshman Morgan Farrier was "upset at [herself]" for not purchasing the tickets earlier. 
"I procrastinated because I had been told that this had never happened before—that the tickets had never sold out," Farrier said.
Last year's Homecoming dance sold between 1450 and 1500 tickets, according to Link Crew advisor Sarah Keasler. 
"With the momentum from students attending the flock, we knew everyone was going to be really engaged and we felt like we might hit a cap this year [with the amount of tickets for the dance]," Keasler said. 
Some students standing in line before school and during snack expressed "disappointment" and "irritation" at the lack of availability of tickets, especially since they thought there would be more time to purchase them.
"Last year, I waited until two days before to get a ticket and I was completely fine. Even last Friday I was told there were still 400 tickets left, so I was like, 'Okay, I'm good.' And now it's off the ASB Webstore and I have to wait in this long line," senior Jett Collins said.
Another senior, CC Torok, had to wait to buy her ticket until her visitor pass was signed to purchase two tickets.
"This is a big school and people are allowed to bring friends from other schools. [The school] should be able to accommodate all these students," Torok said.
However, there are limitations on the amount of tickets Link Crew can sell for the Homecoming dance. The event relies primarily on the "manpower" that can be recruited to work, including supervising students on the dance floor, checking in attendees at the door to limit wait time and keeping lines shorter for photo booths and other activities, according to Ms. Keasler. 
"We have to make sure that we can have eyes on everything that's happening. Ideally, we'd like to have more people but there's always going to be limitations of our school size and ensuring that everyone is having fun and being safe," Keasler said.
Leave a Comment
About the Contributor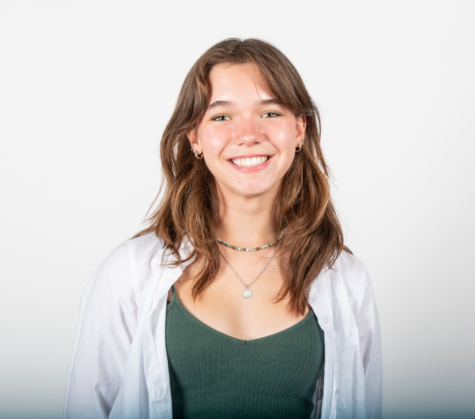 Zelia Lerch, Online Editor in Chief
Notable Life Achievements: Awesome blueberry muffin maker. Can read a Sally Rooney book without throwing up. Has seen Before Sunrise upwards of 10 times. Lighting designed High School Musical 2 in less...