Painful, poignant and poetic
Noah Cyrus' debut album, highlighting her experience with addiction, toxic relationships and recovery, is raw and beautiful.
At just 38 minutes long, "The Hardest Part" proves to be an impressive debut album by Noah Cyrus with a perfect balance of bluegrass and pop. Similar to her previous hits, "The Hardest Part" includes the repetitive chorus and catchiness of pop music, but combines it with folk and bluegrass, connecting the music to Cyrus' Nashville origins. By not using a single computer sample throughout the album, its simple production traits and familiar acoustic sound are thoroughly enhanced.
Alongside the comforting acoustics, "The Hardest Part" deeply reflects Cyrus' experience with Xanax addiction and recovery, faltering relationships and facing the troubles of changing times. The pain felt from her toxic relationships, drug addiction and recovery beautifully render into chilling lyrics.
The first song on the album, "Stand Still (Noah)," starts with a late-night calming and comforting acoustic guitar which picks up at the bridge turning into a catchy country melody. Over the simple fingerpicking patterns and chords, Cyrus sings dark lyrics about her struggles in life, starting the song with a strong line, "When I turned twenty, I was overcome/ With the thought that I might not turn twenty one." Cyrus' vulnerability in this lyric is just a stepping stone for the vulnerability she shares in the rest of the album.
In "Mr. Percocet," Cyrus painfully tells her experience of being in a relationship with someone who has a percocet addiction, and feeling less important than the pills. The song uses contradictory lyrics and perfectly balances metaphors with literal lyrics.
Following the theme of faulty relationships, "Every Beginning Ends," featuring Benjamin Gibbard, is a moving duet from the perspectives of two people in a relationship whose flame is dying. What I love most about this song is the lingering sounds from the pedal steel guitar accompanied by simple drumming. Cyrus and Gibbard's raw voices and perfect harmonies elevate this song to a beyond-listening experience. When listening to this song, and many others on the album, I envision a deep blue energy coming out of the lyrics and melody.
"My Side of the Bed," is one of the more raw sounding tracks on the album. Cyrus sings about her belief that she's not enough in her relationship and her fear of getting left behind. With beautiful surrounding vocals in the background building up, she powerfully sings, "The world's cold and it's rough/ And if you're gonna make it/ You gotta be tough." After this, when she painfully sings, "But I'm not/ My heart's paper thin/ And the softest of words/ Can send me spiraling," the powerful background vocals and sub-bass subside. This is just one example of Cyrus cleverly using instrumentals to support her lyrics.
Overall, "The Hardest Part" is the musical translation of Cyrus' raw and intense experiences and emotions into a beautifully written and produced album. The blend of poetic and storytelling lyrics are appropriately accompanied by simple, comforting instrumentals to truly represent Cyrus connecting to her country roots while setting a mellow, healing mood. Whether you're insecure in your relationship, feel like you're losing a grip on your life or simply want your ears hugged by modern-country, acoustic melodies, just take a half hour and give "The Hardest Part" a listen.
Leave a Comment
About the Contributor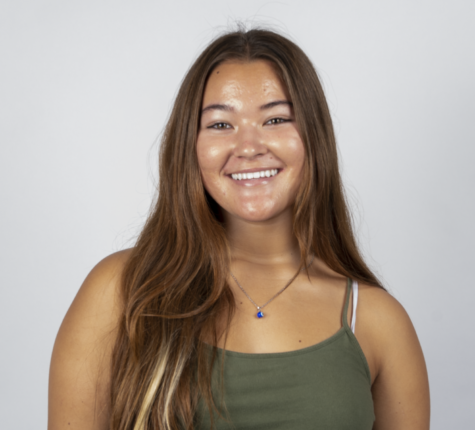 Rena Felde, Online Editor
This is my second year on staff and first year as an online editor. I love meeting new people, hiking, all types of music, and lists that use the oxford comma.